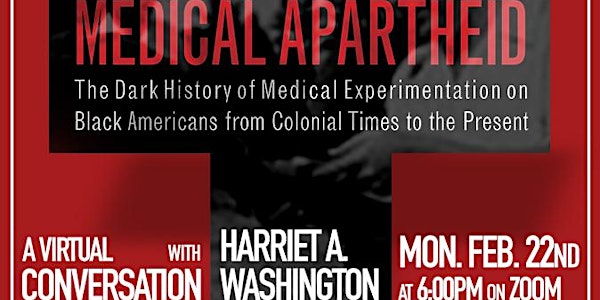 A conversation with Harriet Washington, the author of Medical Apartheid
Join us to hear Harriet Washington discuss her current work on environmental racism and why we should be informed about the COVID vaccine.
About this event
Medical ethicist Harriet Washington is the award-winning author of five books on the history, policies and practices that impact our health. Her first book, Medical Apartheid, chronicles the comprehensive history of medical experimentation on African Americans from the era of slavery to the present day, the first full history of Black America's shocking mistreatment as unwilling and unwitting experimental subjects at the hands of the medical establishment.
Ms. Washington will update us on her current work related to environmental racism and medical and mental health care disparities in the Black and Brown communities and discuss the sweeping changes necessary to right the wrongs that underlay the COVID crisis.