A Conversation with Former Governor Jeb Bush

Thursday, January 31, 2013 from 1:00 PM to 2:00 PM (EST)
Event Details
THE EVENT VENUE HAS BEEN CHANGED TO THE COLLEGE OF BUSINESS COMPLEX (CBC) 235. Located on the 2nd Floor.

A Conversation with Former Governor Jeb Bush
January 31, 2013 | 1 PM | FIU Modesto A. Maidique Campus | College of Business Complex, Rm 235

The Reubin O'D. Askew Institute at the University Florida and the School of International and Public Affairs at Florida International University are pleased to present  "Conversations with Florida Leaders," a series of informal talks with Florida leaders that tells the story of the state's political, social and economic transformation. Over the years, Floridians have confronted many challenges and seized various opportunities as the state grew into the fourth largest in the union. Florida's surging growth challenged its leaders to address a variety of issues, including migration, development, education, the environment, immigration, political accountability, budget shortfall, natural disasters, economic upheavals, transnational crime, and threatened natural resources, among others. This series offers an opportunity to reflect on the challenges and opportunities the state has faced and will continue to face in the future.

Former Governor Jeb Bush will launch the series with a dialogue with FIU President Mark B. Rosenberg and Askew Institute Director David Colburn. Jeb Bush moved to Florida in the early 1980s to work as a real estate developer and broker. In 1987 and 1988, he held his first government post, serving as Florida's secretary of commerce. Bush made his first run for public office as the Republican candidate for the state's governorship in 1994. He lost the election by a small margin to Governor Lawton Chiles. Bush, however, was victorious on his second try in 1998 and his bid for re-election in 2002. Leaving the governorship in 2007 after eight years in office, Bush will be remembered for his work on the state's education system, his efforts to protect the environment, and his achievements in improving the state's economy.

Co-sponsored by the Jack D. Gordon Institute for Public Policy and Citizenship Studies.

The event is free and open to the public; however, a ticket is required for admission.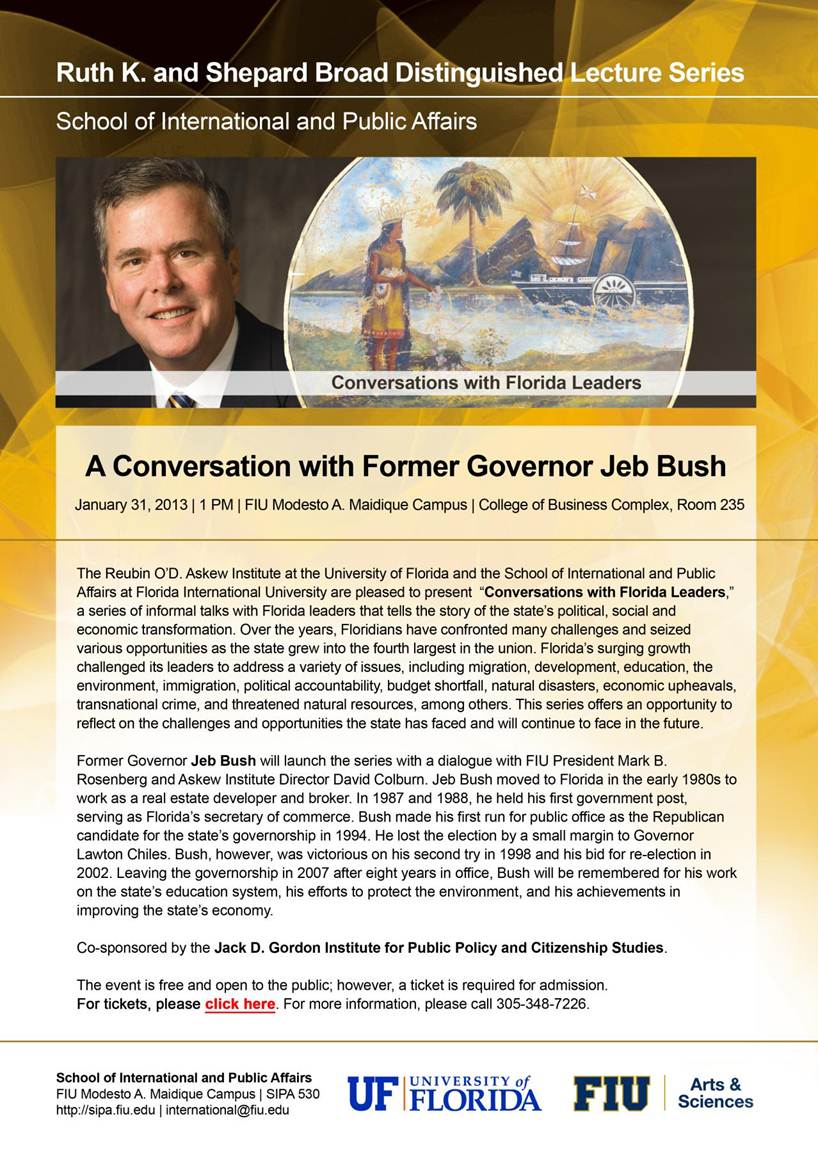 Organizer
The Steven J. Green School of International and Public Affairs
A Conversation with Former Governor Jeb Bush