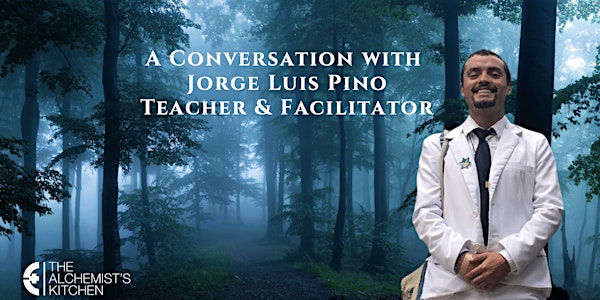 A Conversation with Facilitator Jorge Luis Pino
Join us for a conversation with the teacher and educator Jorge Luis Pino.
When and where
Location
117 Crosby St 117 Crosby Street New York, NY 10012
Refund Policy
Contact the organizer to request a refund.
About this event
Join our Founder and CEO, Lou Sagar, for an enlightening and informative conversation on ceremonial practices with Jorge Luis Pino, a very special teacher, and facilitator.
Attendees will have the opportunity to ask questions, and engage in an intimate gathering to learn more about how to prepare for participation in journey sessions and retreats for personal growth.
What is offered:
Information addressing the concerns about using psychedelic substances based on current scientific research, ancient medicine teachings, professional training, community and personal experience.
Support and guidance pre (preparation) and post (integration) journey to those engaging with psychedelics on their own or with a group.
Support and guidance to those experiencing challenging and adverse effects related to psychedelic substances.
Support and guidance to those who are looking for spiritual psychedelic experiences.
Educational tools to individuals who may need guidance for themselves or others who are planning to experience or have experienced altered states.
Information regarding the Set and Setting for safe and profound psychedelic experiences.
Microdosing education and advising.
Psychedelic education and integration training to other coaches, counselors or mental health professionals who wish to expand their knowledge regarding traditional and clinical approaches to psychedelic experiences.
About: Jorge Luis Pino
Jorge's formal training is in education, social psychology, and cognitive sciences. For the past 8 years, he has been devoted to entheogenic religions, psychedelic education and integration. He considers himself a psychedelic educator, psycho-spiritual advisor, individual guide, and small group leader for psychedelic explorations, education and integration.
Jorge uses an eclectic approach towards healing works, traumas, and the use of psychedelics; incorporating spiritual practices, energy work, psychosomatic, breath-work and sound healing.
Jorge's own personal healing journey, life experiences, and therapeutic and spiritual practice all contribute to his traditional and non-traditional approach to this work.
About: Lou Sagar
Lou Sagar is the CEO and Founder of The Alchemist's Kitchen based in New York City.
In 2016, he recognized the need to create a trust-based contemporary brand focused on plant-based health and wellness.
Motivated by a belief that the societal perception of Cannabis and Psychedelics could be changed from a "Gateway to Dangerous Addictive Drugs" to a recognition that "Plants and Mushrooms Can Heal" and the key would be to lead with education.
In 2017, the Alchemist's Kitchen was birthed with a retail flagship in New York, complemented with events, workshops, and classes.
Today, the company is staffed with a small but passionate team including herbalists, and mycologists with an active curation of best-in-class herbal and medicinal mushroom remedies from the finest makers, farms, and workshops throughout the United States.