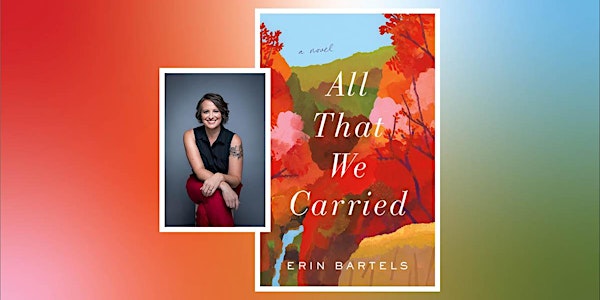 A Conversation with Erin Bartels
Erin Bartels will be joining us in conversation to celebrate her newest novel All That We Carried.
About this event
The award winning author of We Hope for Better Things, Erin Bartels, will be joining us in conversation to celebrate her newest novel All That We Carried.
Registration is free via Eventbrite for this virtual Zoom event.
We ask that you pre-register through Eventbrite to receive a link to the webinar on the day of the event. There will be an audience Q&A with questions submitted via Zoom.
If you would like to support the author and Schuler Books, please consider ordering a copy of the book here. Signed copies available along with personalization.
ABOUT THE BOOK: Ten years ago, sisters Olivia and Melanie Greene were on a backcountry hiking trip when their parents were in a fatal car accident. Over the years, they grew apart, each coping with the loss in her own way. Olivia plunged herself into law school, work, and a materialist view of the world--what you see is what you get, and that's all you get. Melanie dropped out of college and developed an online life-coaching business around her cafeteria-style spirituality--a little of this, a little of that, whatever makes you happy. Now, at Melanie's insistence (and against Olivia's better judgment), they are embarking on a hike in the Porcupine Mountains of Michigan's Upper Peninsula. In this remote wilderness they'll face their deepest fears, question their most dearly held beliefs, and begin to see that perhaps the best way to move forward is the one way they had never considered. Michigan Notable Book Award winner Erin Bartels draws from personal experience hiking backcountry trails with her sister to bring you a story about the complexities of grief, faith, and sisterhood.
ABOUT THE AUTHOR:
ERIN BARTELS is the award-winning author of We Hope for Better Things—a 2020 Michigan Notable Book, winner of the 2020 Star Award from the Women's Fiction Writers Association in both the debut and general fiction categories, and a 2019 Christy Award finalist—The Words between Us—a 2020 Christy Award finalist—and All That We Carried (coming January 2021). Her short story "This Elegant Ruin" was a finalist in The Saturday Evening Post 2014 Great American Fiction Contest. Her poems have been published by The Lyric and The East Lansing Poetry Attack. A member of the Capital City Writers Association and the Women's Fiction Writers Association, she is former features editor of WFWA's Write On! magazine and current director of the annual WFWA Writers Retreat in Albuquerque, New Mexico.