Description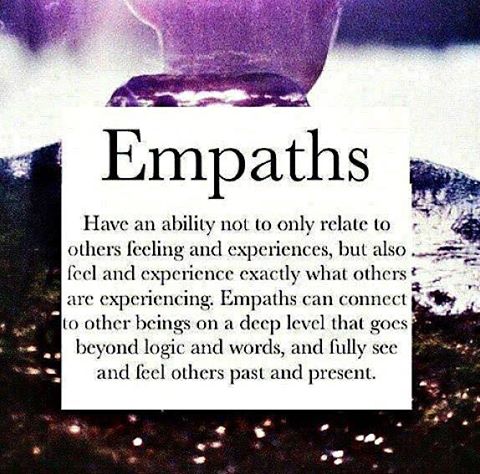 Join us for an intimate circle group among Empaths sharing how to, "Release & Return", emotions, feelings, and energies absorbed by the world around around you.
Being an empath is when you are affected by other people's energies, and have an innate ability to intuitively feel and perceive others. Your life is unconsciously influenced by others' desires, wishes, thoughts, and moods. Being an empath is much more than being highly sensitive and it's not just limited to emotions. Empaths can perceive physical sensitivities and spiritual urges, as well as just knowing the motivations and intentions of other people. You either are an empath or you aren't. It's not a trait that is learned. You are always open, so to speak, to process other people's feelings and energy, which means that you really feel, and in many cases take on the emotions of others. Many empaths experience things like chronic fatigue, environmental sensitivities, or unexplained aches and pains daily. These are all things that are more likely to be contributed to outside influences and not so much yourself at all. Essentially you are walking around in this world with all of the accumulated karma, emotions, and energy from others.
$25
Founded by Master Life Coach H. Alejaibra Badu, The Madison House is a Spiritual Health & Wellness Center that stands to heal people from things that bind them mentally and emotionally. Finding freedom from the self-inflicted prison of the mind when it's over consumed by thought. Freeing yourself from the voice inside your mind that promotes fear, self-doubt, low self-esteem, anxiety, stress, anger, and pain. Freeing yourself from the perceptions of others that leave you in bondage. Freeing your whole self and authentic being. The Madison House belief is that if you are able to be freed from the things that bind you mentally and emotionally, then you can live your life on purpose. Live the life you deserve now, in the present moment; manifesting all the abundance that life has to offer.
The Madison House is a space where love exists. Our logo is an adaption of the Adinkra symbol "Odo Nnyew Fie Kwan," that stands for the Power of Love.
"Love lights its own path. It never gets lost on its way home. You are always home at The Madison House."
​