A Conversation with Dallas Mavericks CEO, Cynthia "Cynt" Marshall
Description
BSP invites you into the room with Dallas sports executives and business professionals for a networking reception and evening of insight from THE FIRST woman to be named CEO of a professional sports franchise, Cynthia "Cynt" Marshall.
This is a FREE event with small bites and beverages provided.
---
Cynt Marshall is the newly appointed Chief Executive Officer of the Dallas Mavericks and is leading the charge for a culture transformation. Her vision is that by 2019, the Dallas Mavericks organization will be setting the NBA standard for inclusion and diversity and her immediate key focus areas include modeling a zero-tolerance policy for inappropriate behavior, developing a women's agenda, institutionalizing an inclusive and supportive culture and developing a best-in-class employee complaint process and operations infrastructure.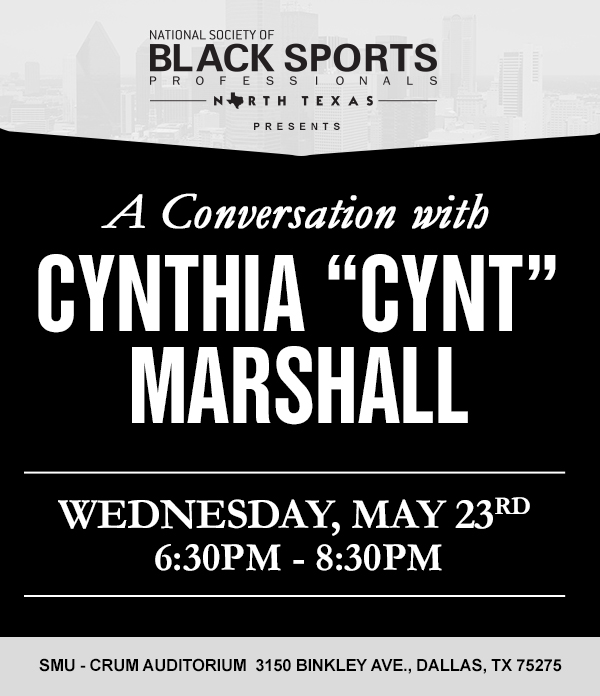 ---

---
PARKING: Binkley Garage & Moody Garage (Binkley located across from event building)
Binkley Parking Center at the corner of Binkley Avenue and Airline Road. The visitor entrance is on Binkley Avenue, and visitors may park anywhere on Level 2 or above. Payment by credit card is made before exiting the garage; the rate is $7.
Moody Parking Center at the southeast corner of SMU Boulevard and Airline Road. The garage is located at 3063 SMU Blvd., less than half a mile from U.S. Highway 75 (North Central Expressway). All-day parking is $7, payable by credit card.