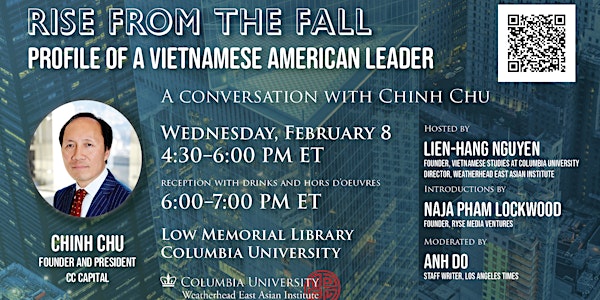 A Conversation with Chinh Chu
Rise From the Fall: Profile of a Vietnamese American Leader
When and where
Location
Low Memorial Library 535 W 116th Street New York, NY 10027
About this event
2 hours 30 minutes

Mobile eTicket
SPEAKER: Chinh Chu
HOST: Lien-Hang Nguyen
INTRODUCTIONS: Naja Pham Lockwood
MODERATOR: Anh Do
Chinh Chu has had an illustrious 30-plus-year career as a private-equity investor and executive. He is the former Co-Chair of Blackstone Private Equity and current Founder & President of CC Capital.
Mr. Chu joined Blackstone in the early 1990s and spent 25 years at the firm, becoming head of the Software and Technology, Financial Services, Chemicals and Healthcare groups. He served on Blackstone's Executive Committee, co-chaired its Private Equity group, and was a member of its Investment Committee. Mr. Chu led some of the most prominent and successful private equity deals at Blackstone.
Mr. Chu founded CC Capital in 2016 and has since spearheaded both traditional private-equity investments as well as a series of SPACs (special purpose acquisition companies). He led the $7.2 billion going-private transaction of Dun & Bradstreet in February 2019 — and less than 18 months later, Dun & Bradstreet was taken public at a 3.5x return for CC Capital's equity investors. CC Capital has created 5 SPACs since 2016, 3 in partnership with Neuberger Berman. Its SPACs have invested in high-quality businesses including Getty Images ($4.8 billion), the global leader in photo imaging and distribution; UTZ ($1.6 billion), the 100 year-old leading manufacturer of salty snacks; E2 Open ($2.6 billion), the leading supply chain software company; and FG Insurance ($2.1 billion), the life and annuities insurer.
Mr. Chu has served on over 20 public and private corporate boards including: City Harvest, Getty Images, E2 Open, Dun & Bradstreet, NCR Corporation, Catalent, Kronos, SunGard Data Systems, Biomet, Celanese Corporation, Nalco, Nycomed, Alliant Insurance Services, London International Financial Futures and Options Exchange (LIFFE), Graham Packaging, AlliedBarton, and BankUnited.
Before joining Blackstone, Mr. Chu worked at Salomon Brothers in the Mergers & Acquisitions department. He graduated summa cum laude from the University of Buffalo's School of Management.
Mr. Chu was born in Vietnam and emigrated to America at the end of the Vietnam War in 1975. He is the eldest of 6 children born to Dennis and Linda Chu. Mr. Chu currently lives in New York City and is passionate about philanthropy, music, mountaineering, and, most importantly, his two daughters.
Please join us for a conversation with Chinh Chu, with introductions by Naja Pham Lockwood, Founder, RYSE Media Ventures, and moderated by Professor Lien-Hang Nguyen, Director of the Weatherhead East Asian Institute, Founder of Vietnamese Studies at Columbia University.