Description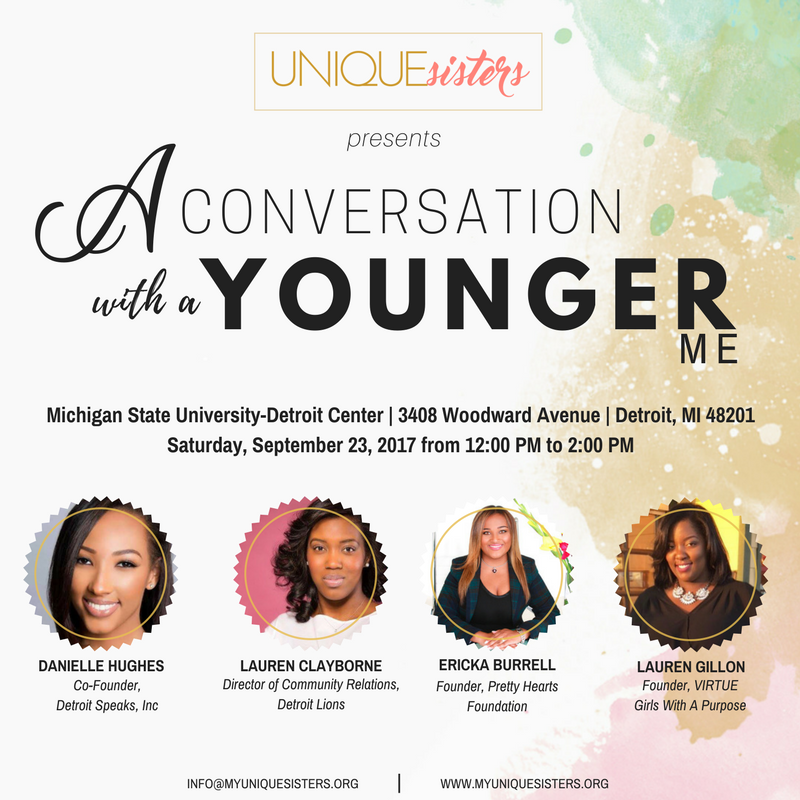 Unique Sisters all girls mentor program provides targeted socio-emotional skill development services to a diverse group of young ladies from the ages of 8-17 years old in the Metro Detroit Community. Our 2nd Annual "A Conversation With A Younger Me" womens' panel will take place Saturday, Spetember 23rd at Michigan State University-Detroit Center.
Our "A Conversation With A Younger Me" panel is a great opportunty for young ladies throughout the Metro Detroit community to gain deeper self-awareness through the shared experiences of four dynamic leaders. Join us and our panelist as they share how their life experiences has supported their professional pathways, but also encourage our youth to make wiser life decisions.
Panelist include:
Danielle Hughes, Co-Founder Detroit Speaks, INC.
Lauren Clayborne, Director of Community Relations, Detroit Lions
Ericka Burrell, Founder, Pretty Hearts Foundation
Lauren Gillon, Founder, VIRTUE Girls With A Purpose
Register today! Email info@myuniquesisters.org for additional questions.