A Conversation with a Twist: Mental Health and Sickle Cell Disease
Cayenne Wellness Center is excited to present the first of three mini-seminars about Mental Health and Sickle Cell Disease
About this Event
Through 3 separate talks, this seminar series will focus on mental health and sickle cell disease.
Our goal is to help raise awareness about the mental health challenges associated with sickle cell disease so that patients, parents, and their families will be able to recognize these issues earlier in life, actively discuss their concerns with their providers in an informed manner, and advocate for necessary treatments and services.
This miniSeminar series - Mental Health and Sickle Cell Disease - is sponsored in part by Novartis Pharmaceuticals.
The speaker and moderator for the first seminar in this series is Dr. Charles Jonassaint. He is a practicing clinical health psychologist focusing on behavioral medicine and health services research. He has clinical expertise in chronic disease self-management and cognitive behavioral therapy intervention and has had extensive experience working with adolescents and adults living with sickle cell disease. He completed his graduate training at Duke University and medical psychology residency at the Duke University Medical Center. He went on to do a clinical research fellowship at Johns Hopkins University School of Medicine, as well as, a Masters in Epidemiology at the Johns Hopkins Bloomberg School of Public Health.
We look forward to having you join us during these mini-seminars. Mark your calendars for the other Mental Health and Sickle Cell Disease seminars taking place in 2021:
Mental and Sickle Cell Disease: With a Kick >> Saturday, June 26, 20,1:30 pm21, from 11 am - 1:30 pm PST
Mental Health and Sickle Cell Disease: With a Shout>> Saturday, December 4, 2021, from 11 am - PST
Each of our Mental Health seminars will be accompanied by a fun stress relieving activity and this month we're excited to introduce Paint Night!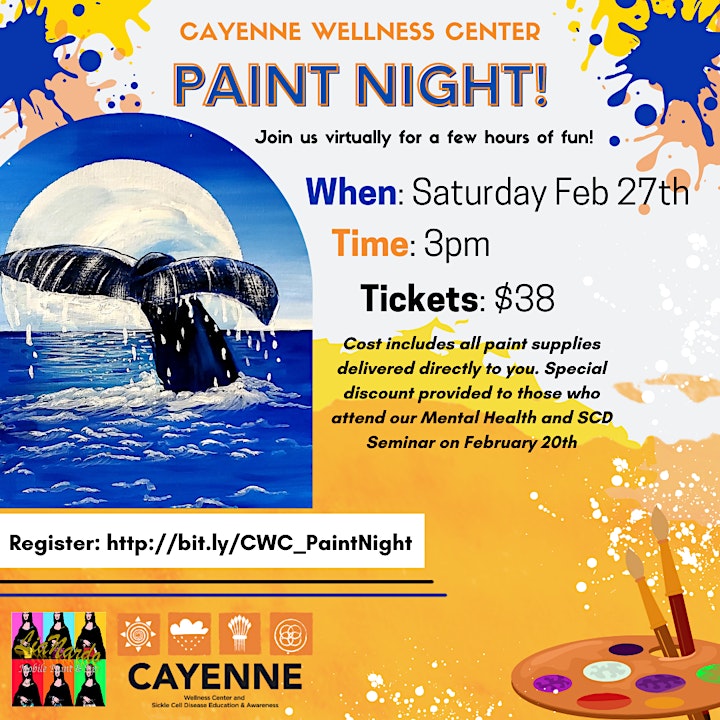 As an attendee of this seminar, you'll receive $15 off the ticket price. The discount code will be provided at the end of the seminar. You'll need to register for both activities separately, so please register for the seminar first and then go here to register for paint night.
SUPPORT CAYENNE WELLNESS CENTER
While all of our seminars are free, donations are welcome and will go towards supporting the Cayenne Wellness Center SCD Client Assistance Program. We appreciate any and all of your support!
OUR MISSION:
"To increase the quality of life for individuals diagnosed with sickle cell disease in California by ensuring expert, unbiased, and comprehensive care." This mission is part of a broader vision of (1) a medical system that effectively addresses the unique needs of individuals with sickle cell disease and (2) patients who are empowered and equipped to advocate for themselves.
OUR PROGRAMS:
Sickle Cell Disease Support Groups (Monthy), 13th Annual Sickle Cell Disease Symposium (September 16 - 18, 2021), 1st Annual Hispanic Heritage SCD Seminar (October 2, 2021), Author's Corner featuring books written by SC Warriors (April 23, July 30, and November 19, 2021) to name a few.