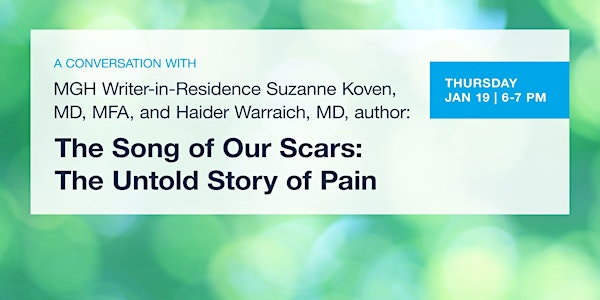 A Conversation: "The Song of Our Scars: The Untold Story of Pain"
Join us for A Conversation with MGH Writer in Residence Suzanne Koven, MD, MFA and author Haider Warraich, MD
About this event
Author and BWH cardiologist Haider Warraich has lived with chronic pain for many years. In his book, "The Song of Our Scars: The Untold Story of Pain," he examines the ways our concepts of pain have been shaped throughout history through the prisms of science, culture, politics and power. Dr. Warraich talks to MGH Writer in Residence Suzanne Koven, MD, MFA, about pain and how modern medicine's failure to understand it has made care less effective.
To register for this virtual lecture, please click on the green button above.
A Zoom link will be sent to you closer to the event time.