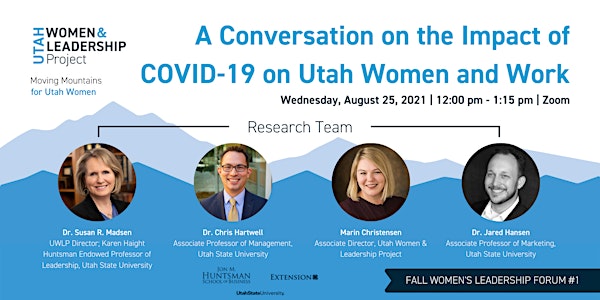 A Conversation on the Impact of COVID-19 on Utah Women and Work
Join us for an engaging panel discussion about the impact of COVID-19 on Utah women and work.
About this event
The Utah Women & Leadership Project invites you to join us for our first Fall Women's Leadership Forum.
The COVID-19 pandemic of 2020–2021 has impacted all Utahns in profound ways. Yet, a host of national and global reports have argued that women's employment and careers have been disproportionately impacted during this time. To better understand Utah women's experiences specifically, UWLP researchers conducted an extensive, in-depth survey focusing on the impacts of COVID-19 on women and work. This comprehensive study included the collection of data on a wide variety of topic areas and included both quantitative and open-ended questions to capture participants' perceptions and experiences. Over 3,500 Utah women responded to the survey. Study researchers will discuss the findings from this research, particularly focusing on burnout, hope, career advancement challenges, childcare, homeschooling, caregiver experiences, physical and mental health struggles, and more. Come, listen, and learn from this important conversation!
Sponsors: Jon M. Huntsman School of Business at Utah State University and the Utah Education Network (UEN)
Panelists
Dr. Susan R. Madsen is considered one of the top global scholars and thought leaders on the topic of women's leadership, has authored or edited six books, and has published hundreds of articles, chapters, and reports. Her research has been cited in the U.S. News and World Report, The Atlantic, The New York Times, Parenting Magazine, Chronicle of Higher Education, and The Washington Post. She is also a regular contributor to Forbes and other local and state newspapers. Professor Madsen is the Inaugural Karen Haight Huntsman Endowed Professor of Leadership in the Jon M. Huntsman School of Business at Utah State University and serves on many nonprofit and community boards. She is also the Founding Director of the Utah Women & Leadership Project, and her passion is to strengthen the impact of girls and women in Utah and worldwide.
Dr. Christopher J. Hartwell is an Associate Professor of Management in the Jon M. Huntsman School of Business at Utah State University. His research focuses on employee selection, talent management, and the use of technology in organizations. He has published in high-quality academic journals such as Journal of Applied Psychology, Journal of World Business, Personnel Psychology, and Journal of Vocational Behavior. Chris has held a variety of professional positions in the field of human resources and is a Senior Certified Professional with the Society for Human Resource Management (SHRM-SCP). He received his Ph.D. in Organizational Behavior and Human Resource Management from the Krannert School of Management at Purdue University. He consults with organizations on various human resources topics, including recruitment & selection, inclusive diversity, onboarding, effective leadership, and developing successful organizational teams.
Marin Christensen is the Associate Director for the Utah Women & Leadership Project where she focuses on research, strategy, and events that impact and empower women. Marin came to us from the Kem C. Gardner Policy Institute at the University of Utah where she conducted survey and qualitative research for various community partners, including women-focused projects. She is also the co-founder of UC3 – Utah Child Care Cooperative, which helps increase access to quality, affordable childcare so women have the choice to stay and thrive in their careers. Marin is pursuing a Ph.D. in Human Development and Social Policy at the University of Utah, where she is studying barriers facing working women.
Dr. Jared M. Hansen is an Associate Professor of Marketing in the Jon M. Huntsman School of Business at Utah State University. He was previously an Associate Professor of Marketing in the Belk College of Business at the University of North Carolina at Charlotte.
Dr. Hansen is passionate about engaging in research that advances knowledge related to the psychological empowerment, meaningfulness, decision making, and performance of leaders, employees, and consumers. He also enjoys engaging in research on entrepreneurial competitiveness, firm strategy and marketing, and business and society topics such as ethics and social responsibilities. He is excited by the mission of the UWLP to create and share research that informs, inspires, and ignites growth and change for all Utahns.
He received his PhD at the Rawls College of Business at Texas Tech University, an MBA from the Marriott School of Management at Brigham Young University, and a BS degree from the Fulton College of Engineering at Brigham Young University. Jared worked for a few years in the corporate buying office of Walmart in Bentonville, Arkansas where he paid close attention to the stories and advice of the business executives of hundreds of different manufacturers and other organizations that he interacted with; he also paid close attention to the observed behaviors of consumers and employees in many stores while traveling around the country visiting different markets. He believes you can learn something precious from anyone if you pay attention. Some of his most cherished memories and research insights have come while traveling abroad as he has taught courses at universities/campuses in Mexico, England, Germany, Hong Kong, and Taiwan. He continues to work with many organizations providing speaking, consultation, analysis, and executive education on a variety of topics.