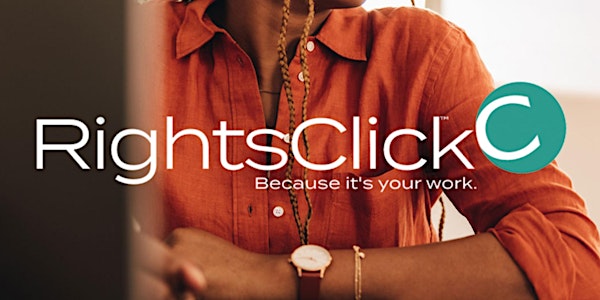 A Conversation on RightsClick & Copyrights
A Follow-Up Conversation on RightsClick & Copyrights Webinar
About this event
Did you know...
Artists commonly say enforcing their rights isn't worth the time. But 65% of artists also report their work has been used without permission! We understand that copyright can be confusing and intimidating. But it doesn't have to be.
If you attended our Your Work, Your Copyright: Take Control webinar, you learned:
Why it's worth taking control of your rights.
The value of registration with the Copyright Office.
How you can take control quickly and easily with RightsClick.
Simple steps you can take to respond to infringements.
Follow-Up Conversation on RightsClick & Copyrights Webinar
Let's chat more about it. And if you didn't attend the webinar, learn what the steps you can take to keep your copyrights safe and your work out of harms-way.
Join the East Region as we continue an in-depth discussion on RightsClick. We'll talk about the process, answer questions, and take a closer look at how you can keep your work protected.
*We will not be giving legal advice, this is an artist-led conversation!
All members & non-members are welcome to attend.