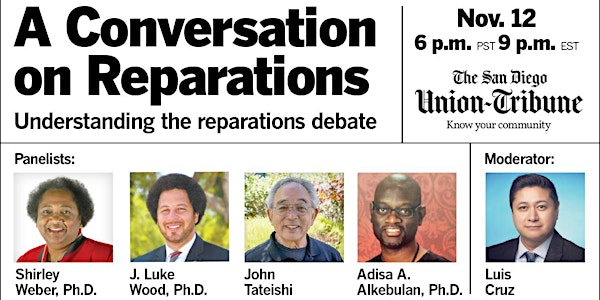 A Conversation on Reparations
Understanding the reparations debate with The San Diego Union-Tribune
About this event
Understanding the reparations debate.
Can America make amends for slavery?
What is society's debt? Is now the time to pay?
What are the key issues driving the debate?
These are some of the questions we will address in this very important discussion. We will also look back at the history of reparations in the United States.
California Assembly member Dr. Shirley Weber is the chair of the Legislative Black Caucus and author of AB3121, which will create a task force to recommend appropriate slavery reparations and determine who should be eligible to receive compensation.
Panelists
Dr. Shirley Weber - State Assembly Member and Educator
J. Luke Wood, Ph.D. - Vice President of Student Affairs and Campus Diversity and Dean's Distinguished Professor of Education at San Diego State University
John Tateishi - Author, Redress: The Inside Story of the Successful Campaign for Japanese American Reparations
Adisa A. Alkebulan, Ph.D. - Associate Professor & Chair of the Department of Africana Studies at San Diego State University
Moderator
Luis Cruz, Community and Public Relations Director for The San Diego Union-Tribune
Don't miss this FREE virtual community forum. Register online today.