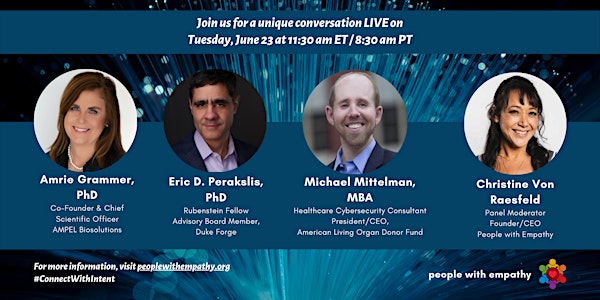 A Conversation on Health Data: Ownership, Privacy, and Contingency Planning
Listen to experts take on key around defining health data ownership, security, and contingencies for when data is compromised.
Refund Policy
Contact the organizer to request a refund.
Eventbrite's fee is nonrefundable.
About this event
More than 90% of health care organizations have been impacted by patient data breaches over the last 5 years. Health data is quickly approaching the levels of consumer data in terms of vulnerability to breaches. But unlike in the consumer data space, medical data is poorly understood by patients, often goes without notice when it is lost, and no standardized, industry-wide tools exist to recover, trace, and protect oneself from lost data.
Technology isn't perfect, and as the age of data is set only to grow and patients are set to demand greater agency and transparency over their data, medical data breaches for nearly everyone, in some fashion or form, may become unavoidable.
It is critical, as we set out to break down silos in health care, that the industry begin collaborating on efforts to bridge this gap.
Our Panelists:
Amrie Grammer, PhD, Co-Founder, COO, & Chief Scientific Officer, AMPEL Biosolutions.
Eric D. Perakslis, PhD, Advisory Board Member, The Forge at Duke University and Rubenstein Fellow, Duke University.
Michael Mittelman, MBA Health Care Cybersecurity Consultant and President & CEO, American Living Organ Donor Fund.
Renee Deehan Kenney, PhD, VP of Translational Informatics and Computational Biology at QuartzBio, a division of Precision for Medicine.
Christine Von Raesfeld, Panel Moderator, Founder & CEO, People with Empathy.
For more on People with Empathy, please visit peoplewithempathy.org.
All rights to this event, including right of publicity, and any production by People with Empathy are reserved exclusively to People with Empathy. Unaltered event link or social media posts from People with Empathy may be shared without explicit consent. All other forms of publicity, production, and production derivates require consent of People with Empathy prior to distribution.