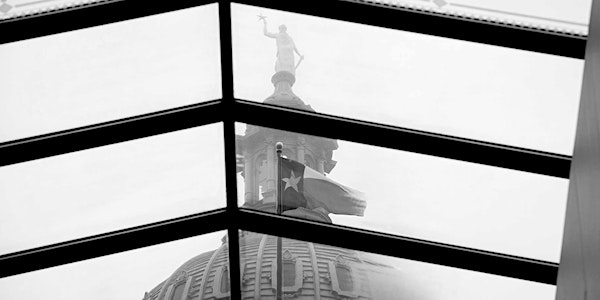 A Conversation on Ethics, Transparency & Open Government
When and where
Location
The Austin Club 110 E. 9th Street Austin, TX 78701
Description
Join us in person or online for a conversation with state Sens. Van Taylor and Kirk Watson and state Rep. Giovanni Capriglione on ethics, transparency and open government in Texas. The conversation will be moderated by Jay Root, a reporter for The Texas Tribune.

Taylor, R-Plano, has represented Senate District 8 since 2015. He serves as vice chairman of the Senate Nominations Committee and sits on the Finance, Health & Human Services, Transportation, and Education committees. Previously, he served in the Texas House. Taylor also works as the director of Churchill Capital Company, a real estate financing firm, and manages other small businesses.

Watson, D-Austin, has represented Senate District 14 since 2007. He serves on the Finance, Business & Commerce, Nominations, and Higher Education committees and previously served as chairman of the Texas Senate Democratic Caucus. He is a partner with the law firm Husch Blackwell and previously served as mayor of Austin and on the original board of what is now the Livestrong Foundation.
Capriglione, R-Southlake, has represented House District 98 since 2013. He serves on the House Appropriations, Local & Consent Calendars, and Investments & Financial Services committees and has served as chairman of the Subcommittee on Bond Indebtedness. Capriglione is also president of Texas Adventure Capital LLC, which provides services to small businesses.
---

The Texas Tribune's Conversation Series features in-depth discussions with prominent elected officials and newsmakers moderated by CEO Evan Smith and other expert journalists from The Texas Tribune. Each free event at the historic Austin Club in downtown Austin features coffee, networking and audience question-and-answer time. You can also watch the event on our livestream if you are unable to attend in person.

This event is supported by Deloitte. The Conversation Series is presented by AT&T, BP, PepsiCo, Walmart, Southwest Airlines –the official airline of Texas Tribune Events – and 85th legislative session sponsor, the University of Texas at Arlington. Additional support is provided by the Hatton W. Sumners Foundation. Tribune events are also supported through contributions from our founding investors and members.
Disclosure: Though donors and corporate sponsors underwrite The Texas Tribune events, they play no role in determining the content, panelists or line of questioning.