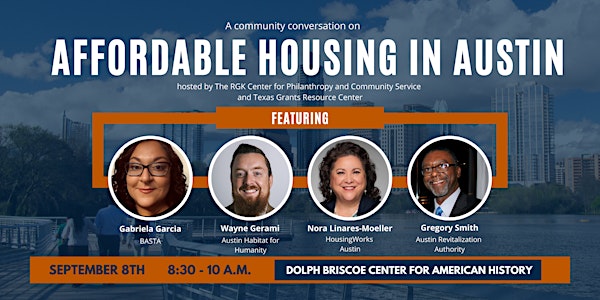 A Conversation on Affordable Housing in Austin
Join us for a community conversation about affordable housing issues and solutions in the Austin metroplex.
When and where
Location
Dolph Briscoe Center for American History 2300 Red River Street Austin, TX 78712
About this event
The RGK Center, in collaboration with Texas Grants Resource Center, invites members of the community to join in conversation about affordable housing issues and solutions in the Austin metroplex.
The event structure will be based off of the User Experience Fishbowl liberating structure where a subset of people with direct field experience can quickly foster understanding, spark creativity, and facilitate adoption of new practices among members of a larger community. Attendees are invited to participate in small group discussions and share observations/questions with the larger group.
Join us from 8:30 - 9:00 a.m. for breakfast and networking in the breezeway outside of the Briscoe Center. Programming will begin at 9:00 a.m. in the Hatfield Room. Parking is provided for all attendees.
"Fishbowl" Participants
Gabriela Garcia, Project Coordinator at BASTA (Building and Strengthening Tenant Action) - Gabby organizes and supports Austin renters in developing tenant associations so that neighbors can work collectively to improve the conditions of their homes and ensure that all Austinites have access to safe and affordable housing. Over the past 20 years she has worked in the nonprofit sector as an organizer, paralegal and advocate for employment, immigration, and housing justice. She was born and raised in El Paso, Texas where she helped open the Paso del Norte Civil Rights Project. Gabby graduated with honors from the University of Texas at Austin with a B.A in Psychology.
Wayne Gerami, Chief Operating Officer at Austin Habitat for Humanity - Wayne has an extensive career in the mortgage, real estate, and affordable housing fields, first working in mortgages at age 16. After a two-year stint with Austin Habitat as an AmeriCorps volunteer doing home repairs for low-income households in East Austin, he received his M.P.Aff. from the LBJ School at UT Austin in 2011. He returned to Austin Habitat in 2013 and has served in many leadership roles across the organization. As COO, Wayne leads the ReStore, Client Services, and HomeBase teams. He has been involved in the pre-development, construction, financing, and sale of hundreds of affordable homes in Austin and has worked on the leading edge of long-term affordability programs that are now replicated by Habitat affiliates across the state and the country.
Nora Linares-Moeller, Executive Director of HousingWorks Austin - Nora Linares-Moeller has served as the Executive Director of HousingWorks Austin since August of 2017. She became involved in the affordable housing world in 2013 raising money for the successful 2013 housing bond campaign. In 2014, she began consulting with HousingWorks. HousingWorks Austin is a 501 c 3 nonprofit organization whose mission is to conduct research,educational initiatives and advocacy around housing affordability.
Gregory Smith, President and CEO of Austin Revitalization Authority - Gregory L. Smith is a life-long resident of Austin, Texas, who has been involved with community development work for over thirty years. Gregory managed the Community Development programs for nearly eighteen years with the City of Austin prior to retiring from the city in 2005. During his tenure he was responsible for: the implementation of the East 11th and 12th Street Redevelopment Program, in addition to numerous development projects serving child care, youth, homeless, elderly and low-income families; preservation of historic resources; and, the implementation of several small business development programs focused primarily in the East Austin community.
As President and CEO of the Austin Revitalization Authority (ARA), since 2009, Gregory has continued his community development work by carrying out ARA's mission, which is "to engage in commercial, residential and cultural development that promotes community well-being, while respecting the people, institutions and history of East Austin and other underserved communities". ARA has been and continues to be instrumental in the redevelopment of the East 11th Street corridor including owning and managing over 64,000 square feet of office and retail space on the corridor. ARA's office is located in the historic restoration and two-story addition of the Herman Schieffer House, locally known as the East Room.