Description
FRIENDS OF THE SONOMA COUNTY WINE LIBRARY
INVITE YOU TO A CONVERSATION IN THE VINEYARD
with Steve MacRostie

Thursday, July 27
6:30 pm Reception
7:00 pm Talk

MacRostie Estate House

Join the Friends of the Sonoma County Wine Library and MacRostie Winery & Vineyards for an evening of wine, food, and conversation. Linda Murphy will moderate the discussion with Steve MacRostie with a focus on the recent history and rise of California Pinot Noir from Steve's perspective. Audience participation is encouraged.

MacRostie Chardonnay and Pinot Noir and hors d'oeuvres by Valette restaurant will be served.

In 1974, Steve MacRostie made his first Chardonnay and Pinot Noir using grapes from areas that would today include the Sonoma Coast. Back then, there were only about 40 small wineries in Sonoma County. Now there are hundreds. Where Steve helped lead—both geographically and stylistically—others have followed, making the Sonoma Coast one of the world's great regions for making Chardonnay and Pinot Noir. With his relaxed charm, philosophical mind, adventurous spirit and encyclopedic knowledge of Sonoma County viticulture and winemaking, Steve is recognized as one of the region's great pioneers, strongest advocates and most respected winemakers.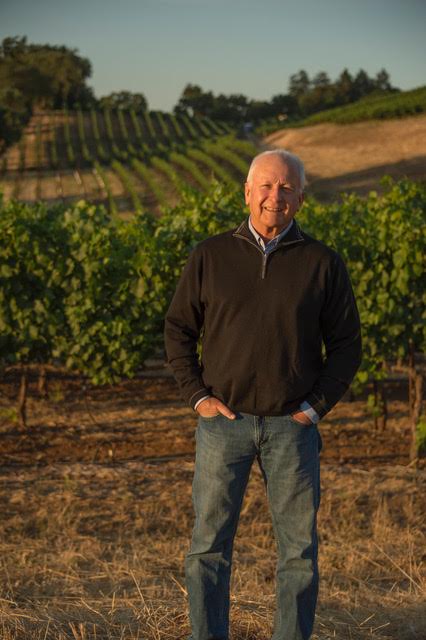 Linda Murphy is co-author with Jancis Robinson MW, of American Wine: The Ultimate Companion to the Wines and Wineries of the United States. She is based in Sonoma County and is the columns editor for Vineyard & Winery Management Magazine, a columnist for WineReviewOnline, and a contributor to Decanter magazine. Linda has received two James Beard Awards, is an active wine competition judge, and contributes to numerous other publications.

Friends of the Sonoma County Wine Library is a non-profit fundraising group, supporting the operations and programming and raising awareness of the Sonoma County Wine Library. Physically housed within the Healdsburg Regional Library, the Sonoma County Wine Library is one of the most comprehensive collections of wine information in the world.

one ticket $50 | two tickets $75
ticket price includes one-year membership and 100% of proceeds benefit the Friends of the Sonoma County Wine Library 501(c)(3)
subscriber winery and FOSCL member tickets $25 each