Description
Join us for March's Wildcatalyst Seminar!

A Conversation About...University/Industry Strategic Partnerships



We'll Be Hearing From:
Peter Egelston
Owner, Smuttynose Brewing Company
Ellen Christo
Sr. Director of Strategic Partnerships, UNH



Come help us celebrate the launch of "1866," the delicious session ale brewed by Smuttynose to commemorate UNH's 150th anniversary!


When:
Thursday, March 23rd
4:30 PM – 5:30 PM
(Come early, grab a beer, and chat with us!)
Networking with free beer and refreshments from 5:30 PM - 6:30 PM
All are welcome, but attendees must be 21+ to partake in the alcoholic beverages.


Where:
Alpha Loft at the UNH ECenter
21 Madbury Road, Durham, NH
(See map and parking instructions below)



A Conversation About...

University/Industry Strategic Partnerships
For March's Wildcatalyst Seminar, we will be discussing the development of effective and valuable university/industry strategic partnerships.

University/industry partnerships have a host of mutual benefits like increased student involvement, new educational opportunities, product development, industry growth, and economic development. We've asked UNH's own sr. director of strategic partnerships Ellen Christo and Peter Egelston, owner of Smuttynose Brewing Company to lead the conversation as they share their recent experiences working together to brew and launch a beer in celebration of UNH's 150th anniversary and talk about their collaborative efforts to build and strengthen UNH's capacity to support NH's fast-growing craft beer industry.

They will discuss:

Initiating strategic partnerships
Key issues at different stages of the partnership journey
Mutual benefits
Overcoming common challenges
Key lessons learned
Opportunities moving forward
And more!
We'll also be celebrating the release of the 150th anniversary beer that has been named "1866" in honor of the year of UNH's founding. We'll have some at the seminar for attendees to try as well as a selection of Smuttynose's other delicious brews.
Who Should Attend

Anyone interested in start-ups, early stage ventures, or curious how to convert an idea into something real

Anyone interested in innovation and UNH research

Industry professionals

Students, faculty, and staff

Seasoned business leaders who would like to meet the next generation of business leaders

The entire NH community interested in supporting, promoting, and encouraging new companies to start and stay in NH
The official Twitter hashtag for this event is #Wildcatalyst.
---
Our Speakers:

Peter Egelston
Peter wasn't always a beer guy. After graduating from NYU in 1981 with a degree in Spanish Literature, he quit his job as a hotel doorman and took a more "dignified" position – at one third the pay – teaching high school in Brooklyn. In 1986 his sister Janet convinced him to join her in Massachusetts where they would open what is now the oldest brewpub in the northeast: the Northampton Brewery, where Peter was Head Brewer until 1991, the year they opened the Portsmouth Brewery, the Granite State's first brewpub. In 1993, Peter attended the auction of the bankrupt Frank Jones Brewing Company. Not intending to bid on anything that day, he walked away having purchased the brewery that was to become Smuttynose. The rest is history.
Ellen Christo
Ellen Christo, Sr. Director of Strategic Partnerships, serves as the UNH Business Concierge, providing "one-stop shopping" to businesses trying to navigate university resources. She leads UNH business engagement strategy, internally by facilitating campus coordination to optimize resources and share information and externally by bringing businesses to campus to provide direct access to university talent and capabilities. Her expertise in relationship management helps business and industry connect to UNH research, instrumentation, facilities, faculty, staff and students, to foster mutually beneficial partnerships. Ellen is also the Program Manager for the highly successful New Hampshire Innovation Research Center (NHIRC), a state initiative that provides matching grants that further the growth and development of New Hampshire businesses.
Throughout her career, Ellen has provided counsel to U.S. and international companies, representing clients in the manufacturing, energy, cosmetic, security, software and defense industries; from start-ups to Fortune 100 companies. As a litigator, Ellen managed the human element of large scale corporate jury trials, including the integration of trial teams, witness testimony and jury selection. More recently, her focus on sophisticated commercial transactions, M&A, and compliance, helped clients navigate the complexity of laws and regulations, to help their businesses grow and prosper. Ellen's experience also includes having worked for two Governors and a United States Senator. Her diplomatic skills have been honed by international experience in Dubai, Jordan, Germany, Russia, Albania and Hong Kong, interfacing with government officials, embassies and international suppliers.
Ellen earned her J.D from the University of New Hampshire School of Law and her B.A. in Political Science from the University of New Hampshire.

---


Our Sponsors

Gold Sponsors

Silver Sponsors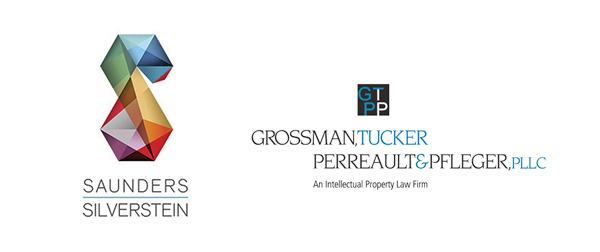 Sponsorship opportunities available! Contact unh.innovation@unh.edu for more information.
---
Event Location:

Alpha Loft is now located at 21 Madbury Road, Durham, NH. Attendees can enter through the entrance closest to the Pettee Brook parking lot (see the image below) and follow the signs to the event.

Attendees may park along Madbury Road, Pettee Brook Lane, and Main Street. Parking is metered until 6:00 PM and is strictly enforced. The first hour is free in many lots, HOWEVER, please make sure a ticket is displayed in your vehicle before leaving.

For additional parking guidelines, please visit the UNH Parking website.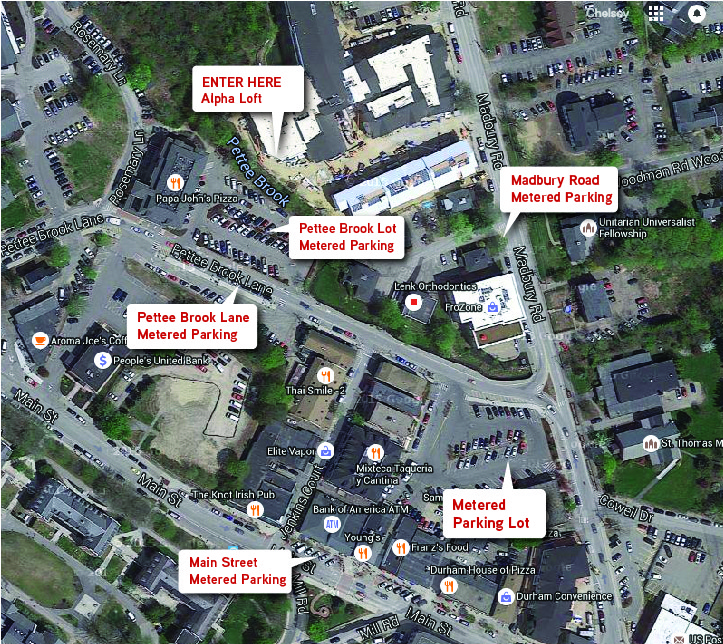 Fall 2016-Spring 2017 Wildcatalyst Seminar Series: A Conversation About...
The Wildcatalyst Seminar Series (formerly the Catalyst Seminar Series), hosted monthly during the academic year, is open to all and designed to be a meeting place for innovators, entrepreneurs, service providers, and anyone else interested in how innovations of today represent the information and opportunities of tomorrow.

This year's theme is "A Conversation About..."

Each month, we will invite NH businesses to come and share the innovations, challenges, and pressing issues from within their industry in a conversation with UNH faculty researching in that field. We hope to foster a discussion that highlights the technical challenges and innovations in both industry and academia.