Description

Save Your Seat for Content Modeling 101
Taught by Noz Urbina
Feb. 23, 2016, 10:30 AM (@ 2-Hour Event)


Content Modeling Training
Sign up to attend this one-time-only hands-on introduction to 4D customer journey mapping and content modeling 101 webinar and get a sneak peek of two of the select speakers at Intelligent Content Conference (ICC) 2016. Hosted by Cruce Saunders, founder of [A], and taught by Noz Urbina content strategist, author of "Content Strategy: Connecting the dots between business, brand, and benefits" and founder of Urbina Consulting, this course presents a deep dive look at the tools to drive intelligent content in 2016.

Customers are pushing brands consistently and globally with the same demand: deliver content that is personalised relevant for the moment, situation, and need.
Learn how Adaptive content modeling is used to establish content creation standards supporting user's context, journey stage and personal history.
This course has received stellar feedback from attendees all over Europe and the US from a wide variety of discipline and industries. Available for the first time online, it's an opportunity not to miss.

Copies of each of our thought leaders' eBooks included. (see below for more details).
Course Includes:
Core concepts from a brand, user and practioner's point of view.

Content modeling foundations

Content types

Mapping types to journey

Introductory exercises
---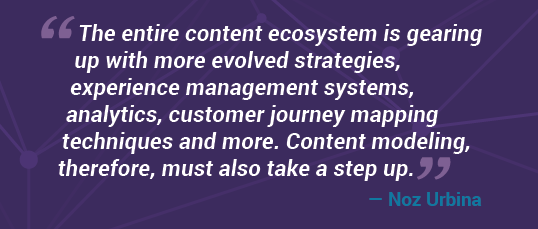 ---


Save your seat for Content Modeling 101 today for just USD $99.00, and take home 2 free eBooks!
Attendees recieve:
"Content Strategy: Connecting the dots between business, brand, and benefits", by Noz Urbina

"Content Engineering for a Multi-Channel World", by Cruce Saunders
Free when you sign up.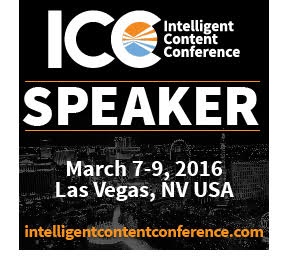 Visit Noz and Cruce at the Intelligent Content Conference in Las Vegas, NV, March 7-9:


About Noz Urbina
Noz Urbina is a globally recognized content strategy consultant specializing in complex, multinational projects. He delivers frequent workshops and keynotes on cutting-edge content techniques, co-authored "Content Strategy: Connecting the dots between business, brand, and benefits", and tweets on @nozurbina. In 2013, he founded his consultancy Urbina Consulting.


Sponsored and Produced by [A]
Organizer of [A] Content Modeling 101 Webinar with Noz Urbina, [A] is a distributed technology consulting and training company dedicated to humanizing the digital experience. Simplify complex implementations of web content management and content marketing platforms with [A]. [A] content engineers work behind the scenes to empower leaders, enable digital process, and simplify content technology for business users, agencies, and content administrators.

@SimpleATeam