Event Information
Location
Fairfax City location to be provided upon acceptance of your membership application
Fairfax, VA
Description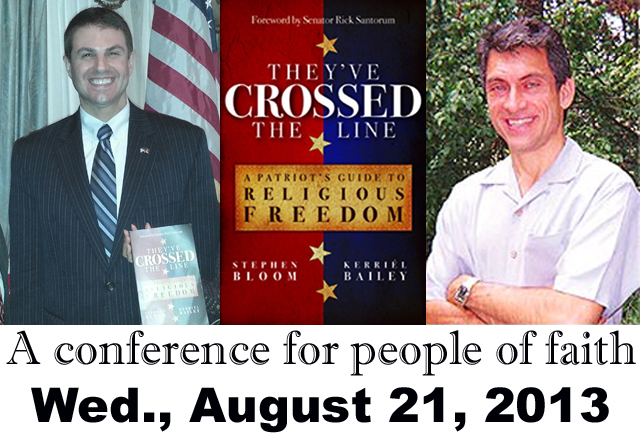 7 PM Conference for new provisional members & members
5 PMDinner with Keynote speakers (members only)
Sponsored by BirthmotherMinistries.org
Featuring remarks by
PA Representative Stephen Bloom
Co-Author, They've Crossed the Line: a Patriot's Guide to Religious Freedom, introduction by U.S. Senator Rick Santorum, Founder of Patriot Voices
copies of his book to be available for autographing at $4 discount from Amazon price
&
Jim Wright
President & Founder, BirthmotherMinistries.org
"Where are you, men of courage?"
(from the movie, Courageous)
A conference for people of faith
Because Faith without works is dead.
If you agree that abortion is wrong, what can you do to help save the babies?
If you agree that the government is going too far in suppressing people of faith and their churches, what can you do about it?
If they tell you to be silent because faith has no place in the public square, will you be silent, or join us at this Conference?
If you are an American of Faith, join us at this conference to learn more about what we can do together to stand up for what is right.
Take Leadership. Take Action.
Learn how. Join us.
A message from the Sponsor:
It isn't enough for people of faith to go into their Churches to pray and worship. We must also go out into the world as we were commanded, and show our faith by our works. It isn't enough to be against abortion and opposed to the suppression of people of faith and their churches. We need you to attend this conference and learn more about what you can do to defend our faith in the public square. There are 3000 babies being aborted every day—more than the number who died on 9/11. We pray you will be there with us at this conference.
Jim Wright
Founder & President
BirthmotherMinistries.org
5:00 PM doors open for confirmed dinner guests (5:30 PM dinner served)
7 PM Conference (begins with coffee & dessert)
(you may attend Conference only as a new Conference Provisional Member, or both the dinner & conference if you are a Conference member)
This conference will be held in the Fairfax City area, location disclosed once your new membership application is approved.
Early Bird Deadline: RSVP for Dinner by Monday 7/29 @ 11 PM
Regular Deadline: RSVP(dinner or conference) by Tuesday 8/21 @ 11 PM
For video & text of past keynote speakers: http://FreedomLeadershipConference.org
Private monthly conference for volunteer conservatives (donors & activists) only. You must be a Provisional Member or Member for admission.
Conference Statement of Purpose & Rules at the website at http://freedomleadershipconference.org/info/.
Conference includes presentations on the Thurmont Statement of Conservative Principles, the popular "Lightning Round" (1 minute each) of up to 10 individuals from audience (first come first served) to describe "How I have been a Volunteer Conservative," other conservative speakers & the very popular

Saul Alinsky Smear of the Month Award
Remarks & presentation on How the Left Smears Conservatives, by
David Denholm
President, Public Service Research Foundation
Alinsky Award nominations may be made to LeftSmear@FreedomLeadershipConference.org
and the popular series by "New Americans by Choice"
"Why I Chose America"
Personal stories to remind us all about American Exceptionalism
Conference Menu
Dinner 5 PM: Dinner will be a family style Chinese meal with the keynote speaker & Conference Leaders
Conference Begins 7 PM: Coffee and Deserts (free or suggested donation $5)

http://FreedomLeadershipConference.org
Conference organized with assistance of Freedom Center Foundation
If you are unable to attend this function, we are willing to keep you apprised of future functions as a SUBSCRIBER (including links to articles about the conferences, video and text of some of the speakers and more. Or you may apply for Provisional Membership which, once approved, entitles you to invitations to a future monthly conference as well as the free subscription. There are no subscriber or membership dues.
We appreciate your referring this conference to your friends but remind you that application for Provisional Membership must first be approved before someone is eligible to attend the monthly conference, and MEMBERS ONLY are invited to the dinner. ALL attendees - dinner and conference - must advance RSVP for admission. If you do RSVP and then do not attend we will request you pay in advance to attend in the future. We strongly encourage our members, provisional members and subscribers to share the link to the website (via facebook, email, twitter, etc.), especially when there are NEWS items posted there.
"Like" our Facebook page HERE.
For the FLYER (8 1/2 x 11, PDF) of this conference HERE.

Date and Time
Location
Fairfax City location to be provided upon acceptance of your membership application
Fairfax, VA