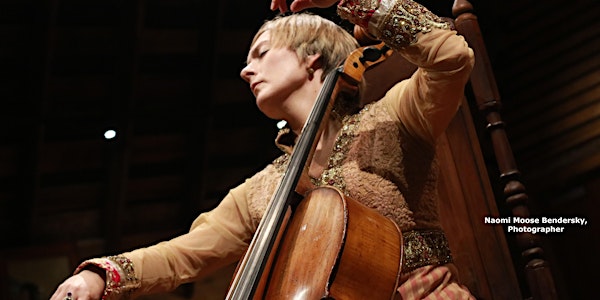 A Concert With Cellist, Tanya Anisimova; Guitarist, Matt Palmer
When and where
Location
Blue House Productions 4213 Howard Avenue #C Kensington, MD 20895
Description
You can physically join us for this Live Concert or virtually join us and stream it live!
You can physically join us for this Live Concert or virtually join us and stream it live!
This live and globally accessible event will feature Tanya Anisimova, a preeminent prize winning cellist who has built a successful career in performing, composing, and recording. Amongst the numerous venues, Anisimova has performed to standing ovations at Carnegie Hall. Click on her website for more details http://www.tanyaanisimova.com
Also performing will be renowned guitarist Matt Palmer, who has appeared as a soloist throughout the United States, Europe, Mexico, Canada, South America, and the Caribbean. Palmer was awarded the "Up and Coming Guitarist of the Year" award by Guitar International Magazine. Be sure to check Palmer's website http://www.mattpalmerguitar.com
Here are just a few of Anisimova's reviews:
"Highly focused artist" —The Washington Post
With regards to Anisimova's original music "indescribably beautiful...one of the most notable musical moments I remember" — R. Sanches, Cultura Michoacan, Mexico
"The Past Meets The Future" — Port Fairy Festival, Australia
______________________________________________________________________________________
According to Live @The Studio Series' tradition, the program will include a brand new musical piece. This globally accessible event will showcase "Sinfonietta For Cello and Guitar" by Tanya Anisimova, which was just completed.
Also on the program are:
"Seven Spanish Folk Songs" by Manuel De Falla
"Asturias (Leyenda)" by Isaac Albeniz
"Sonata "Mongolia" by Stepan Rak, to name just a few.
______________________________________________________________________________________
These are just a few of Palmer's press releases:
"Matt Palmer is one of the most extraordinary young guitarists I have heard in the last few years. His ability on the instrument in quite outstanding and the ease with which he takes on the most challenging works of the guitar repertoire is impressive. I wish him all the success in his career that he clearly deserves."
— David Russell, Grammy-award winning guitarist
"Matt Palmer is one of the most impressive guitar players I've come across. He has developed a very personal right hand guitar technique using a combination of three fingers for four-note patterns. This technique has been worked by other guitarists in the past but Matt Palmer has taken this possibility to an ultimate level and the result is pure music."
— Sergio Assad, Grammy-award winning composer
"Classical guitarist Matt Palmer is one of a kind. Combining the soul of an artist, the technical virtuosity of the highest caliber and a heightened sense of musicality, Palmer's uniqueness is also his greatest strength. While other guitarists posses a comparable level of expression, technicality and musicality, to find them all in one player, and at a young age, is a rare occurrence to say the least."
— Guitar International Magazine
Your ability to see Palmer and Anisimova in this unique concert hall provides you with a very special and intimate performance that should not be missed.