A Community Partnership for Service and Science during the COVID Pandemic
ZSFG Dean's Seminar Series: "Unidos en Salud: A Community Partnership for Service during the COVID Pandemic
About this event
The UCSF School of Medicine Vice Dean's Office at ZSFG is proud to host the ZSFG Dean's Seminar Series: Highlighting Basic, Clinical, and Translational Research at ZSFG.
Unidos en Salud: A Community Partnership for Service during the COVID Pandemic
Professor and Associate Chair of Clinical Research Department of Medicine
Chief, HIV, Infectious Diseases & Global Medicine at Zuckerberg San Francisco General Hospital, University of California, San Francisco
Background Information:
Diane Havlir, MD is a UCSF Professor and Chief of the HIV, Infectious Diseases and Global Medicine Division at ZSFG, home to world-renowned HIV research and Ward 86 clinical program. She is also the Associate Chair of Clinical Research in the Department of Medicine, Director of the UCSF AIDS Research Institute (ARI). She is a member of the National Academy of Medicine.
She was a resident at UCSF when the AIDS epidemic emerged in the 1980s, and she has both cared for HIV patients and conducted research—transforming national and international guidelines ever since. She is a long-standing NIH-funded investigator with over 400 publications including in the New England Journal of Medicine, JAMA and other high impact journals. Dr. Havlir was a Co-founder and continues as a Co-chair of San Francisco Getting to Zero (GTZ), a citywide consortium with a goal to eliminate new HIV infections and deaths. Diane has been very active globally via leadership roles in the World Health Organization (WHO), having chaired the HIV global drug resistance surveillance network, and the HIV-TB working group. She is the current co-chair of the WHO HIV treatment and prevention global guidelines, and Chair of the United Nations AIDS Scientific and Technical Advisory Committee, which provides high-level guidance on global action to combat the HIV/AIDS pandemic.
In addition to her HIV research, Dr. Havlir's team is actively involved in COVID-19 work. At the onset of the pandemic, Dr. Havlir established the city-community-academic partnership Unidos en Salud, which has provided low barrier test-and-respond and vaccine services to thousands of persons in the Mission district of San Francisco. In collaboration with The CZ BioHub, her team has tracked epidemiologic trends, including the recent West Coast and Delta SARS-CoV-2 variants. The Unidos en Salud collaboration prototyped and evaluated low-barrier mass "test-and-respond" and vaccine interventions in San Francisco, to understand and intervene on COVID transmission in the disproportionately affected Latinx population. Data from these studies have led to policy changes and wider availability of rapid testing to interrupt chains of transmission of SARS CoV-2.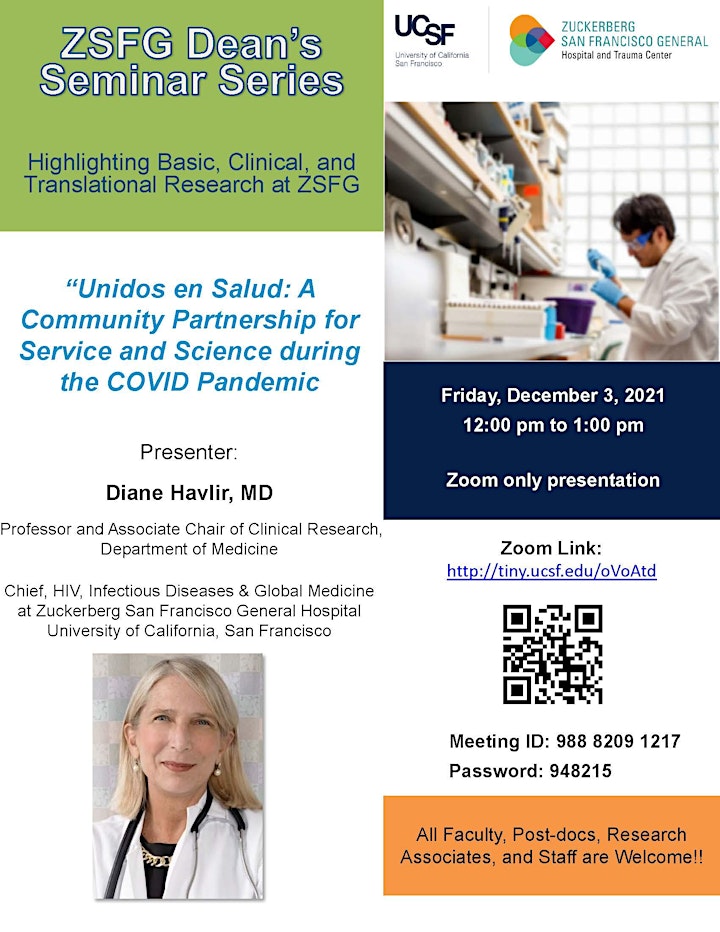 Organizer of A Community Partnership for Service and Science during the COVID Pandemic