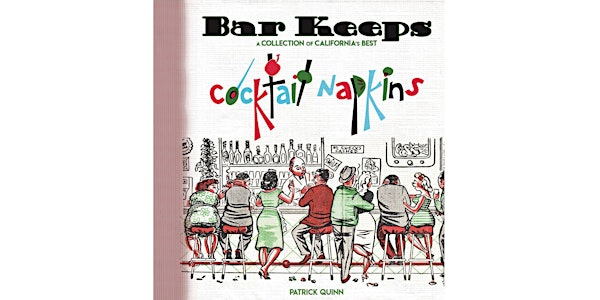 A Collection of California's Best Cocktail Napkins, lecture & book signing
Bar Keeps: A Collection of California's Best Cocktail Napkins, Lecture + Booksigning + Holiday Cocktails in the PRS Courtyard
When and where
Location
Philosophical Research Society 3910 Los Feliz Boulevard Los Angeles, CA 90027
About this event
Join us at PRS for a nostalgic trip back to the golden age of cocktails in the Golden State in all their mid-century splendor with author Patrick Quinn and book designer J. Eric Lynxwiler – starting off with a selection of holiday-themed cocktails in the PRS Courtyard from 6:00 – 7:00 PM!
For everyone who ever sipped a martini, guzzled a brewski, or got zonked on a Zombie, Bar Keeps: A Collection of California's Best Cocktail Napkins is a fun and fabulous tour of cocktail culture in the Golden State. Whether you like roadside diners, chic hotels, hidden dives, fancy restaurants, tiki bars, or, ahem, neighborhood exotic dancers' nightclubs, napkin collector Patrick Quinn, author of Bar Keeps, probably beat you there and found a vintage cocktail napkin to mark the occasion.
Do you know how "the cocktail" got its name? Ever wonder why pink elephants symbolize a pixelated good time? Or have you asked yourself why napkins pictured women lolling naked in champagne glasses? Quinn answers those and other startling questions and provides a loopy look at how bars and cocktail napkins bonded. Who knew that a cocktail napkin collection could document a culture and bring back treasured memories? Bar Keeps does it all.
Not into drinking? Lots of people aren't, but who doesn't want a visual treat, a good laugh, and a look back at the Golden State in a debatably golden age? Quinn guides a rollicking road trip with stops in San Diego, Los Angeles, San Francisco, Oakland, Sacramento, Bakersfield, and points between—all with local cocktail napkins to savor.
If you've had a tropical extravaganza at Trader Vic's in Oakland, watched the dancers at the Chinese Sky Room in San Francisco's Chinatown, downed a G&T at Joe DiMaggio's Grotto on Fisherman's Wharf, spotted stars at the Hollywood Palladium, had a hot toddy at Fred Harvey's in LA's Union Station, or swooned while Rudy de la Mor sang at the Little Shrimp in Laguna—the glow of riotous evenings will all come back as you flip through Bar Keeps—a book full of memories, ready to make you and your favorite gift-worthy pals smile.
Bar Keeps is a humorous and historic romp through California, designed for cocktail tables and bars in every town! And besides page after page of great visuals, it's a heckuva good read, so pour yourself a tall one, and get ready for a book full of fun to be viewed over and over again. Read responsibly! Here's to you!
Patrick Quinn and J. Eric Lynxwiler will sign copies of "Bar Keeps" following the lecture.
About the author and the designer:
A longtime Angeleno, author Patrick Quinn is a production designer at Universal Studios in Hollywood. He and his wife spend most weekends at swap meets and antique malls, searching for hidden treasures. This allows him to indulge in an ever-growing collection of vintage odds 'n' ends, including lounge music LPs, 1970s snapshots, Western Union telegrams, early travel guides, and, of course, cocktail napkins.
As a Los Angeles fan and historian, graphic designer J. Eric Lynxwiler has celebrated his city as a co-author and designer for multiple Angel City Press titles about Southern California including Wilshire Boulevard, Knott's Berry Farm, and Spectacular Illumination. He can be found hosting nighttime Neon Cruises for the Museum of Neon Art in Glendale, California, and hitting flea markets for vintage photos and paper ephemera.
Special thanks to: Jim Schneeweis / Angel City Press
In-person tickets and ZOOM tickets (lecture only) are available. This event will be recorded. Please email events@prs.org or phone 323-663-2167 with any questions.
COVID-19 Protocols for the Philosophical Research Society
To ensure safety for visitors and staff, PRS has implemented the following measures:
​
Please stay home if you are feeling sick. Check the CDC website for coronavirus symptoms.
Please do not visit if you come in close contact with someone who has COVID-19 or COVID-19 symptoms in the 14 days prior to your visit.
Face masks are strongly recommended to all visitors and staff indoors. See LA County recommendations. ​
Please use the outdoor courtyard when eating or drinking.
​Capacity is limited for the purposes of safety.
Hand sanitizer stations are available throughout the campus.
All visitors must follow the posted rules.
More information:
Los Angeles County: https://covid19.lacounty.gov
Los Angeles City: https://coronavirus.lacity.org
http://publichealth.lacounty.gov/media/Coronavirus/docs/HOO/HOO_SaferReturnWorkCommunity.pdf
An inherent risk of exposure to COVID-19 exists in any public space where people are present. We cannot guarantee you will not be exposed to COVID-19 during your visit. Those visiting the Philosophical Research Society, Inc. do so at their own risk of such exposure.
PRS EVENT POLICIES
We reserve the right to refuse service to anyone.
Events are subject to change without notice, including guest speakers and/or performers.
We encourage you to arrive at least 30 min. before the scheduled event start time to find parking, enjoy the Bookstore and take your seats.
Please turn off all mobile devices before the show. Talking and texting are not allowed during the events.
No filming, audio recording or mobile phone recording of events, screenings, concerts or other programs by audience members is allowed.
There is no smoking permitted on PRS grounds.
We strongly encourage guests to wear masks to PRS events to prevent the spread of infectious diseases.
PRS allows Service Animals into the facility under ADA and state guidelines. For further details please visit www.ADA.gov. No animals permitted whose sole function is to provide comfort or emotional support, under ADA guidelines and CA Health Code.
Please do not bring outside food or drink into PRS events.
Weapons are strictly prohibited at PRS events.
REFUND POLICIES
All sales are final. There are no refunds or exchanges for PRS events, except in the event of a medical emergency, including but not limited to a positive COVID-19 test.
In the event that PRS is forced to cancel an event entirely, tickets will be​ refunded or vouchers offered for a rescheduled event.