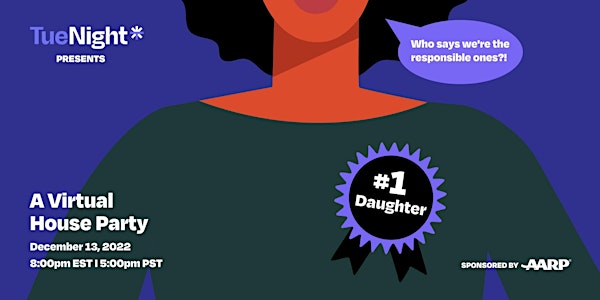 A Coast-to-Coast Virtual House Party
TueNight Presents #1 Daughter, Sponsored by AARP
About this event
Join TueNight for an online virtual house party (yes, we said house party!) on Tuesday, December 13th, for TueNight's famed evening of storytelling, community, laughs and tears as we explore, honor, and celebrate all of the #1 Daughters.*
What is a #1 Daughter? The one who is responsible for everything. Oh, you know who you are. The trusted decision maker. Advice giver. The one who cares for the parents. The go-to. And as so many of us are living longer, those responsibilities are evolving.
How will this work? For this edition we'll be going cross-country (virtually) to hear stories in real-time from our Gen-X sisters (and a few Millennial, Xennial and Boomer friends) about what it means to be a daughter through the lens of aging.
Join the conversation online! #numberonedaughter #disruptaging
Already registered and looking for your link to join? Check your inbox for an email from Zoom! (If you can't find it, just register again here!)

Ophira Eisenberg is a standup comedian, writer, and the host of the new comedy podcast Parenting Is A Joke with iHeart Radio and Pretty Good Friends. She also hosted NPR's Ask Me Another where she interviewed hundreds of celebrities. She's appeared multiple times on CBS's The Late Late Show, Comedy Central, and is regular host and teller on The Moth Radio Hour. Her memoir, Screw Everyone: Sleeping My Way to Monogamy was optioned for a television series, and her new comedy special Plant- Based Jokes is streaming on YouTube.

Omisade Burney-Scott (she/her) is a Black southern 7th generation native North Carolinian feminist, social justice advocate, and creative with decades of experience in nonprofit leadership, philanthropy, and social justice. Omisade is the creator/curator of The Black Girls' Guide to Surviving Menopause, a multimedia project engaged in culture and narrative shift work to normalize menopause and aging through the centering and curation of stories from Black women, women identified and gender-expansive people.
Kathy Cano-Murillo, The Crafty Chica - is former syndicated newspaper columnist and now a full-time creativepreneur with multiple product lines, and collabs with national brands including, Makers Movement for HSN, Bisque Imports, Madison Park Greetings, and Riley Blake Fabrics. She has authored several craft books and novels, including a book about the life of Frida Kahlo, and her latest – The Crafty Chica Creates. Kathy has been featured in Forbes, The New York Times, Buzzfeed, and more!

Margit Detweiler is the founder of TueNight.com, a platform dedicated to amplifying the stories of Gen-X women. In addition to being a three-time Webby honoree/ and nominee for TueNight.com, the "TueDo List" was named one of the top 10 women-led newsletters for 2019 by Forbes. Her writing has been published in Refinery29, Rolling Stone, Associated Press, and many others. Margit is also president of Gyrate Media, an award-winning content strategy and editorial development firm based in Brooklyn.

Melody Godfred is the Self Love Philosopher. As a poet, author and speaker, she is devoted to empowering people to love themselves and transform their lives. She is the author of bestselling Self Love Poetry: for Thinkers & Feelers, The ABCs of Self Love, and The Shift: Poetry for a New Perspective, which was recently nominated for a 2022 Choice Award by Goodreads. Oprah Magazine, Woman's Day and Today with Hoda and Jenna have featured Melody's poetry for its ability to deeply resonate and uplift.

Mimi Ison is a pro-age movement motivator, blogger, and anti-ageism advocate. At 59, she's a health and fitness enthusiast who crushes age stereotypes on Instagram @heymiddleage, and writes about midlife on her blog heymiddleage.com. Her happy place is the boxing gym where she started training at age 50.

A little bit about the partnership...
We're proud to have AARP as a sponsor, because, like us, they take a bold approach to changing how we think about aging by challenging outdated beliefs and exploring new ways to spark conversation and empower people to choose how they live as they age. Join us as we explore how to #DisruptAging together.
A little bit about TueNight...
TueNight is an award-winning platform and community for Gen-X women to share the true, messy, often hilarious stories of their lives. We host evenings with a variety of storytellers, each reading her personal essay around a common theme. Check out a few of our past events. Join us!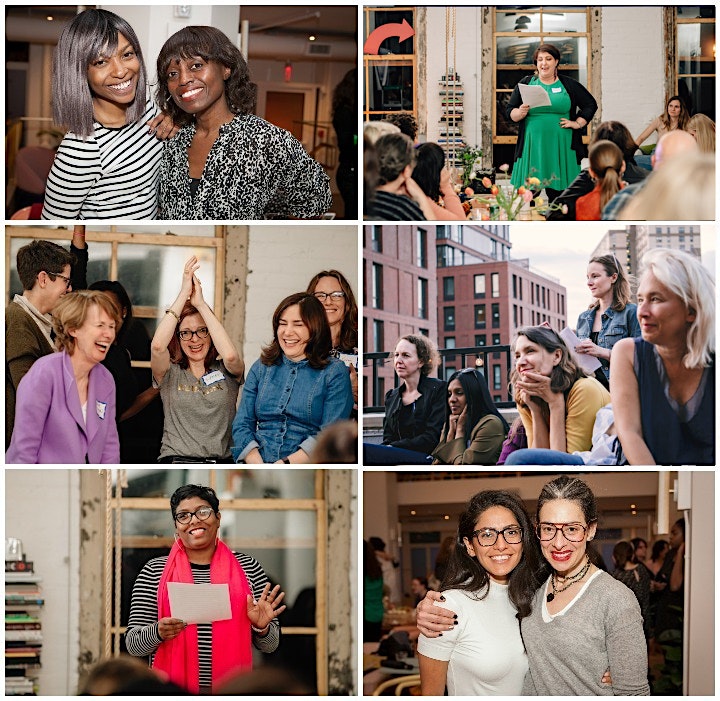 What people say about us....
"TueNight is a great place to share and exchange thoughts and ideas in an intimate and safe environment. I highly recommend it as a speaker or a listener to feel more connected to a wonderful community." —Stacy London, CEO, StateOf
"TueNight is cathartic, emotionally-wrenching, fun with a bunch of wonderful strangers and friends. It's pretty much the only reason I ever leave my house on a weeknight." —Lori Leibovich, Editor, Well, New York Times
"The person who invited me to this group is the gal who turned me on to the steamier Judy Blume books in junior high." —LA Starcevich
"TueNight events feel like a giant hug from that one friend that *gets* you." —Amy S Choi, Mashup Americans
To learn more about our community, visit TueNight.com
More about this event...
*This event will be recorded.
**A winner will be announced during the virtual event. Eligible entries are limited to continental US residents age 18+. The winner is required to provide a physical mailing address by 12/20/22 in order to receive the gift box. Official rules apply.
As an event registrant, you are accepting TueNight, LLC terms and conditions. Your email will automatically be added to our mailing list for more Gen-X goodness (you can opt-out at any time).