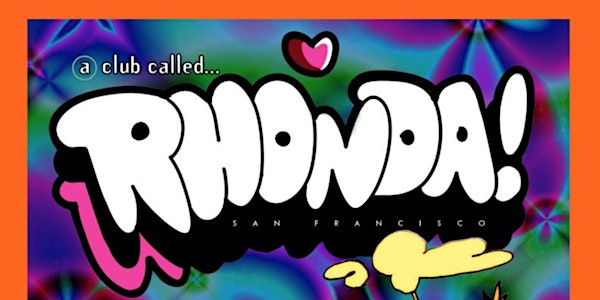 A Club Called Rhonda - Robert Owens, Kim Ann Foxman, Goddollars + More!
The Great Northern Presents
Performers
Robert Owens, Kim Ann Foxman, Goddollars, BEYA, DJ M3 aka Makes Me Move, Cole Odin
Location
The Great Northern
119 Utah St.
San Francisco, CA 94103
A Club Called Rhonda is back with Robert Owens, Kim Ann Foxman, Goddollars, BEYA, Cole Odin, and DJ M3!
About this event
Rhonda is back again! This party sells out every time. Don't wait to secure your ticket.
Robert Owens
With more than twenty years as a gifted singer, songwriter, producer and DJ under his belt, Robert Owens is very much the most celebrated voice in house music. 'Tears', 'I'll Be Your Friend' and 'Ordinary People' are just some of the tunes that have borne Robert Owens' black velvet voice and that have gone on to become truly classic dance records. Like many other great vocalists, Robert Owens began his career singing in church gospel choirs. Growing up in the less affluent areas of Chicago and L.A. he used music as an escape from his destitute surroundings. Entry into the nascent world of 80s house music came not through Robert's singing, but rather through his skills as a DJ. By the time people like Ron Hardy and Frankie Knuckles were designing house music's blueprint on the dance floors of legendary venues like the Warehouse and the Music Box, Robert was DJing at block parties and smaller clubs in Chicago.
In 1985 Robert met pioneering Chicago producer Larry Heard, who invited him into his studio. Together they formed Fingers Inc with Ron Wilson and released a series of excellent singles such as 'Mysteries Of Love' or the instantly recognizable house standard 'Can You Feel It'. This cooperation culminated in one of house music's first full-length albums, 1988s 'Another Side', after which the group amicably disbanded to follow their individual solo careers. Robert also stayed true to his records spinning club roots. As an innovative and globally in-demand DJ, he is still dazzling crowds across the UK, Europe, Japan and America with his special blend of the deepest house and electronica.
Kim Ann Foxman
Kim Ann Foxman's long-term relationship with dance music began in the '90s, when she was a teenager growing up in Honolulu, Hawaii. She spent formative years engrossed in the last gasp of San Francisco's freewheeling rave scene before it was extinguished by the startup boom in the 2000s. But when she followed love to New York City in 2002, she found a club scene in retreat as electroclash and dance-rock defined the cultural moment. Since the music she wanted to hear no longer had a home in New York, she founded her own debaucherous lesbian and queer club night at an infamous East Village spot called the Hole, where she served as a resident DJ. So did her friend Andy Butler, who drafted her as the lead vocalist for his popular band, Hercules And Love Affair. Although Foxman had always DJ'd, the affiliation with the band and the associated scene was hard to shake after she left to start her career as a solo producer and DJ.
By now it's safe to say that Foxman is known as an artist in her own right. She still lives in New York City, where she occupies a converted fire station that became the namesake for her record label, Firehouse. It's also the name of her monthly residency at the Brooklyn nightclub Good Room, which has become one of her main commitments in the local scene alongside her program on The Lot Radio and her new collaborative project, Pleasure Planet, which appears on her new sub-label, Self-Timer. She came by RA's Berlin office to talk to Elissa Stolman about her journey and how she became known for her true self: a deeply knowledgeable and extremely fun producer and selector.
Goddollars - https://soundcloud.com/goddollars
BEYA - https://soundcloud.com/bbellayuto
DJ M3 - https://soundcloud.com/djm3sf
Cole Odin - https://soundcloud.com/coleodin