Description
Comedian Luna Malbroux brings together a crew of artists- writers, comics, and poets to discuss living in, loving in, and leaving San Francisco. Based on conversations with SF residents in multiple neighborhoods performers explore the ups, downs, complexities, and complicit-ness of living in one of the most expensive cities in the United States. The night closes out with a full set from Luna Malbroux, previewing her newest (and first) half-hour comedy special. Made possible by the SF Arts Commission.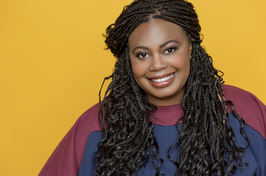 Luna Malbroux Bio: Named one of KQED's Women to Watch, Luna Malbroux is a comic, writer, and creator of the award winning play, "How to Be A White Man". Winner of the Comedy Hackday Grand Prize at SF Sketchfest, Luna has made international headlines as the creator of EquiTable, an app that satirically solves the wage gap by creating 'reparations, one meal at a time.' A regular contributor to national publications, Luna has been featured on Fusion TV, AJ+ and Refinery 29. She recently was named one of the 100 most influential artists by YBCA.
Featuring:
Grey Rissado: Grey is bad with names but still wants to know yours. They write poetry, prose, short stories, and handwritten letters. They have featured at Red Light Lit, Quiet Lightning, Get Lit, You're Going to Die, and more. You can enjoy some of their published work in sPARKLE & bLINK, Buddy, Rag, Be About It, and the East Bay Review. They live in Oakland and love their dog more than most people.

April Chelsea Mosley: April is a collaborative content creator, theater producer, storyteller, director and editor who works in film, television and digital media. She creates innovative content, driving the perennial gale of creative destruction.

Amy Farah Weiss: Amy Farah Weiss is a queer political activist and social innovator who was born and educated in the Bay Area, watched Tales of the City on KQED as a teenager, moved to SF in 2007, got involved in local politics in 2011 to block a Chase Bank from displacing small businesses in the Divis neighborhood, ran for Mayor twice in support of progressive policies, and founded the Saint Francis Homelessness Challenge in 2015 to end the crisis conditions of street homelessness with Safe Organized Spaces.