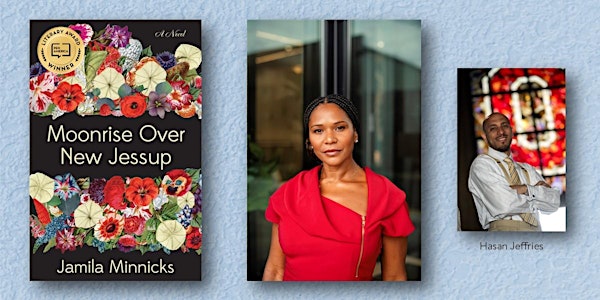 A Civil Rights Conversation: Novelist Jamila Minnicks & Dr. Hasan Jeffries!
An Evening with PEN/Bellwether Prize winner and debut novelist Jamila Minnicks in conversation with Civil Rights Scholar Hasan Jeffries!
When and where
Location
Gramercy Books 2424 East Main Street Columbus, OH 43209
Refund Policy
Contact the organizer to request a refund.
About this event
Jamila Minnicks, recipient of the 2021 PEN/Bellwether Prize for Socially Engaged Fiction, will be in conversation with noted Ohio State University historian Hasan Jeffries to discuss Minnicks's debut novel, Moonrise Over New Jessup, a thought-provoking and enchanting debut about a Black woman doing whatever it takes to protect all she loves at the beginning of the civil rights movement in Alabama.
Registration closes at 6:00 pm on the day of the event. The purchase of Moonrise Over New Jessup waives the $5 admission fee.
KING ARTS COMPLEX and OHIO STATE UNIVERSITY DEPARTMENT OF HISTORY are Gramercy's Community Partners for this program.
It's 1957, and after leaving the only home she has ever known, Alice Young steps off the bus into the all-Black town of New Jessup, Alabama, where residents have largely rejected integration as the means for Black social advancement. Instead, they seek to maintain, and fortify, the community they cherish on their "side of the woods." In this place, Alice falls in love with Raymond Campbell, whose clandestine organizing activities challenge New Jessup's longstanding status quo and could lead to the young couple's expulsion—or worse—from the home they both hold dear. But as Raymond continues to push alternatives for enhancing New Jessup's political power, Alice must find a way to balance her undying support for his underground work with her desire to protect New Jessup from the rising pressure of upheaval from inside, and outside, their side of town.
Jamila Minnicks's debut novel is both a celebration of Black joy and a timely examination of the opposing viewpoints that attended desegregation in America.
Jamila Minnicks' work is also published in CRAFT Literary Magazine, The Write Launch, and The Silent World in Her Vase. Her piece, Politics of Distraction, was nominated for the Pushcart Prize. She is a graduate of the University of Michigan, the Howard University School of Law, and Georgetown University. She lives in Washington, DC.
Hasan Jeffries is associate professor at The Ohio State University Department of History where he teaches, researches, and writes about the African American experience. He is the author of Bloody Lowndes: Civil Rights and Black Power in Alabama's Black Belt and is also the editor of Understanding and Teaching the Civil Rights Movement, a collection of essays by leading civil rights scholars on how to teach the Civil Rights Movement. Jeffries wrote and narrated the 10-episode Audible Original series Great Figures of the Civil Rights Movement. He has also worked on several public history projects, including serving as the lead historian for the $27 million renovation of the National Civil Rights Museum at the Lorraine Hotel in Memphis, Tennessee, site of the assassination of Dr. Martin Luther King, Jr. Dr. Jeffries hosts the podcast Teaching Hard History. He earned his BA in history from Morehouse College and his PhD in American history with a specialization in African American history from Duke University.