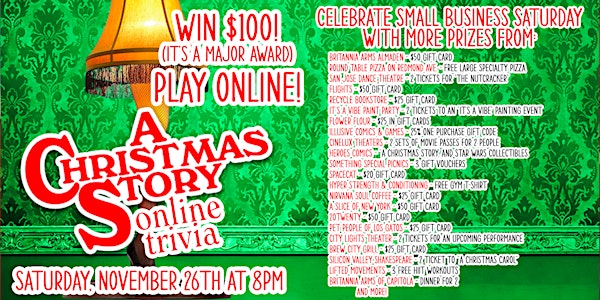 A Christmas Story Online Trivia for Small Business Saturday!
Take the soap out of your mouth, put on your bunny pajamas and play A Christmas Story trivia online for a chance to win $100 and more!
Refund Policy
Contact the organizer to request a refund.
Eventbrite's fee is nonrefundable.
About this event
November 26th, we're kicking the Christmas season into high gear from your couch! We'll have 25 questions about "A Christmas Story" and 1 first place winner! Answer a question correctly, you stay in the game and get one step closer to getting that Red Ryder you want from Santa. Get one wrong and its OH FUDGE (but you won't say fudge) as you're eliminated. We'll play until we have a single winner who'll walk away with $100! We'll also be featuring prizes from great local small businesses to celebrate Small Business Saturday including:
Join Jennifer and John online at 8pm, Saturday November 26th as we play A Christmas Story Trivia Online and celebrate Small Business Saturday!
FAQs:
Q: How do I play Online Trivia?
A: When you purchase your ticket, you'll receive a Zoom link to watch us host the game and be able to interact with us and the other players. We'll send an email to all registered players with a link to the game 60 minutes before the start of the event. You'll be able to sign in using the email address you used to purchase your ticket, play the game and watch us host from RiskyQuizness headquarters!
Q: How will the game work?
A: All questions are either multiple choice or numerical. You'll have 30 seconds to select the correct option or type in the correct number. No ambiguous fill in the blank questions but every chance to blame a wrong answer on fast fingers hitting the wrong choice. After each question, players who've answered correctly will continue to play, players who've answered incorrectly will be eliminated. Eliminated players will be able to continue to see the questions but will no longer be eligible to win. In the event of multiple players surviving all 25 questions, we'll look at which survivor answered correctly the fastest!
Q: Will there only be a prize for 1st place?
A: While the game is winner take all, we will have more prizes from all of our small business partners to give away during the game so even if you end up with your tongue stuck to the light pole, you'll still have a chance to win a prize!