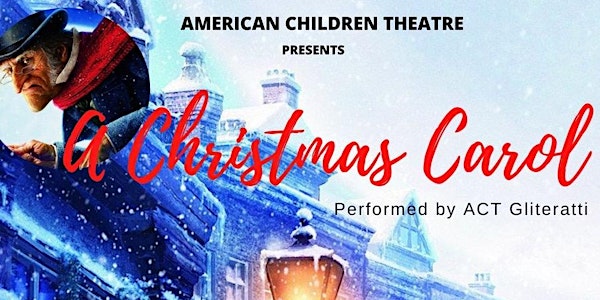 "A Christmas Carol" by ACT Glitteratti
"A Christmas Carol" by ACT Glitteratti TICKET INFORMATION Everyone needs a ticket to attend
When and where
Location
Espace Saint Pierre 121 Avenue Achille Peretti 92200 Neuilly-sur-Seine France
Refund Policy
Contact the organizer to request a refund.
Eventbrite's fee is nonrefundable.
About this event
Join us on Saturday December 11th and Sunday December 12th as American Children Theatre's Glitteratti present "A Christmas Carol".
Our ACT Teen Troupe, Glitteratti will be performing Alan Menken's musical version of "A Christmas Carol". Based on the classic novel by Charles Dicken's the musical tells the story of Ebenezer Scrooge, a mean-spirited and selfish old man who hates Christmas. Scrooge causes misery to all those around him, refuses to help those in need and is unkind to his family and colleagues. One Christmas Eve he is visited by four spirits who try to show him the error of his ways both in the past, present and future. Can Scrooge be changed or will he always believe that Christmas is a Humbug?
COVID-19 REGULATIONS
We are so excited to be back in the theatre setting for our shows! We will be in accordance with all COVID safety regulations and restrictions set by the government.
PASS SANITAIRE or Negative COVID test within 24hrs is REQUIRED. Please also bring a PHOTO/NAME ID.
As per government decree, we must refuse any person who does not have a Pass Sanitaire or Negative COVID test within 24hrs, and a mask (at appropriate ages). We kindly ask also for photo/name ID to check against Pass Sanitaire.
MASKS:
We require ALL children over the age of 6 and ALL adults, regardless of vaccination, etc., to wear masks at ALL TIMES.
TICKET INFORMATION
Everyone needs a ticket to watch the shows (excluding currently enrolled ACT students who can watch unlimited shows).
With a ticket to the Glitteratti show you can also watch the Sparklers performance of The Grinch Who Stole Christmas, at 2pm the same day.
SEATING:
Premium seating: Help to support ACT by purchasing one of our premium seats. These tickets help ACT to raise the funds necessary to provide the students with this wonderful theatre experience (including the rental of the theatre, professional technicians, musicians, etc.). Premium ticket holders will be seated in the first few rows in the theatre.
General ticket sales seating: These are all tickets, not labelled as Premium tickets.
PLEASE NOTE: Premium seating will be allowed entry and seated first, with a wait time of at least a few minutes before general ticket holders, to fit the safety requirements of the theatre. General seating will be seated one section at a time, as per COVID regulations. Please arrive early and allow time for each section to be seated.
FOOD:
We are not allowed to have food inside the theatre. Please refrain from bringing food and drink into the theatre. There will be concessions in the front lobby for before / after the show.
TICKETS:
If you have any issues with tickets, or photos that you purchase, please email me directly at admin@actparis.com
ABOVE ALL, ENJOY THE SHOW!
SHOW SCHEDULE
SATURDAY, 11th December
• 7:00 PM Vocal Performance Recital followed by Glitteratti's A Christmas Carol
SUNDAY, 12th December
• 5:30 PM All Stars Preview "A Frozen Dream" followed by Glitteratti's "A Christmas Carol".
Please note that all show tickets purchased online are non-refundable.
Cast Photos:
You will have the option on show day and afterwards to purchase framed souvenir photos from the shows. We will be taking individual shots of each child in costume, as well as a cast photo. Photos may be purchased individually or as a bundle. They will be available at the live shows, or after show weekend via a link that will be sent out to all ACT families. Photos purchased at the show can be paid for by cash or credit card and photos purchased after the show will be paid for via virement.
Photo prints will be available for the first week of classes in January. If you have any questions or issues with purchases please email at admin@actparis.com.