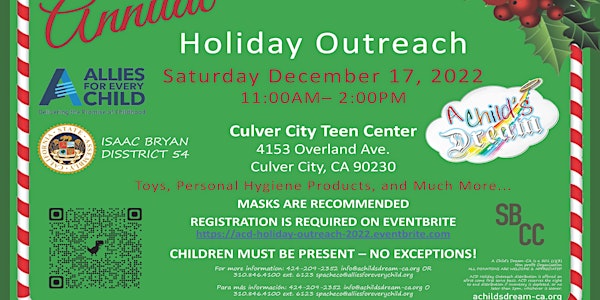 A CHILD'S DREAM-CA: ANNUAL HOLIDAY OUTREACH 2022
ANNUAL HOLIDAY OUTREACH
When and where
Location
Culver City Teen Center @ Veterans Memorial Park 4153 Overland Avenue Culver City, CA 90230
About this event
ANNUAL HOLIDAY OUTREACH- CA Time for Sharing
Toys, Personal Hygiene Products, and Much More! 
This will be a great opportunity for our children & families!!!
CHILDREN MUST BE PRESENT TO ACCEPT THE ITEMS – no deliveries! This event is open to the community, so let's make sure that your families are there!     
 MASKS ARE RECOMMENDED.
COVID Safety• Participants are encouraged to stay safe and comfortable, including wearing masks if you are at risk for severe illness.
• Please check yourself for symptoms on the morning of the event; do not come if you are experiencing any symptoms.
• If you have any concerns, please email us beforehand and we can discuss them.
The event details are as follows:
Date: Saturday, December 17, 2022
Time: 11:00 am until 2:00 pm (Arrive Early)
Place: CULVER CITY TEEN CENTER
         @ Veterans Memorial Park
         4153 South Overland Avenue
         Culver City, California 90230
Cost: FREE  
Ticket: 1 ticket per family
Details and additional information may be found on:
www.achildsdream-ca.org or at (424) 209-2352
------------------------------------------------------------------------------------------------------
ANUAL HOLIDAY OUTREACH- "Un tiempo para compartir"
Juguetes, productos de higiene personal, y mucho más!
Esta será una gran oportunidad para nuestros hijos y familias!LOS NIÑOS DEBEN ESTAR PRESENTES PARA ACEPTAR LOS ARTÍCULOS - ¡no hay entregas! Este evento está abierto a la comunidad, así que asegúrese de que sus familias están allí!
SE RECOMIEDAN MáSCARAS.
Los detalles del evento son los siguientes:
Fecha: Saturday, December 17, 2022
Tiempo: : 11:00 am until 2:00 pm (Arrive Early)
Dirección:CULVER CITY TEEN CENTER
         @ Veterans Memorial Park
         4153 South Overland Avenue
         Culver City, California 90230
Costo:  Gratis
Entrada: 1 billete por familia
Detalles e información adicional se puede encontrar en:
www.achildsdream-ca.org or at (424) 209-2352