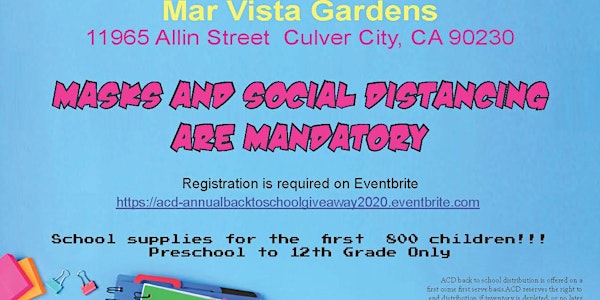 A CHILD'S DREAM-CA: ANNUAL BACK TO SCHOOL GIVE-AWAY 2020- AUGUST 15, 2020
School Supplies for 800 children. Grades Pre-K- 12th . MASK AND SOCIAL DISTANCE ARE REQUIRED. Útiles escolares para 800 niños. Grados Pre-K.
About this event
About this Event
SCHOOL SUPPLIES GIVE-AWAY!!!!
Please share with your friends, family, staff, and colleagues….
 "A CHILD'S DREAM" organization is again sponsoring their Annual Back to School Event on Saturday, August 15, 2020. Due to COVID-19, our location and distribution have changed.
This is a great opportunity for our youth to receive school supplies…
CHILDREN MUST BE PRESENT TO ACCEPT THE ITEMS – no deliveries!  This event is open to the community, so let's make sure that your families are there!
EVERYONE MUST WEAR A MASK TO ATTEND THE EVENT
The event details are as follows:
Date:           Saturday, August 15, 2020
Time:          11:00 am 12:30 pm Mar Vista Gardens Residents ONLY
12:30pm- 2:00pm REGISTERED Eventbrite families
Place:        MAR VISTA GARDENS
                       11965 Allin Street, Culver City, California 90230
Cost:           FREE
Parking: Is located on Inglewood Blvd.
NOTE: You must be registered on Eventbrite to attend the event.
MAR VISTA RESIDENTS DO NOT NEED TO REGISTER. A LIST WILL BE AVAILABLE FOR RESIDENTS.
*********************************************************************************************************************
Sobre este evento
ÚTILES ESCOLARES REGALO !!!!
Por favor, comparta con sus amigos, familiares, personal y colegas ...
La organización "A CHILD'S DREAM" está patrocinando nuevamente su Evento Anual de Regreso a la Escuela el sábado 15 de agosto de 2020. Debido a COVID-19, nuestra ubicación y distribución ha cambiado.
Esta es una gran oportunidad para que nuestros jóvenes reciban útiles escolares ...
LOS NIÑOS DEBEN ESTAR PRESENTES PARA ACEPTAR LOS ARTÍCULOS - ¡sin entregas! Este evento está abierto a la comunidad, ¡así que asegurémonos de que sus familias estén allí!
TODOS DEBEN USAR UNA MÁSCARA PARA ASISTIR AL EVENTO
Los detalles del evento son los siguientes:
Fecha: sábado 15 de agosto de 2020
Hora: 11:00 am 12:30 pm SOLO para residentes de Mar Vista Gardens
12:30 pm- 2:00 pm familias de Eventbrite REGISTRADAS
Lugar: JARDINES MAR VISTA
11965 Allin Street, Culver City, California 90230
Gratis
Estacionamiento: Está ubicado en Inglewood Blvd.
NOTA: Debe estar registrado en Eventbrite para asistir al evento.
LOS RESIDENTES DE MAR VISTA NO NECESITAN REGISTRARSE. UNA LISTA ESTARÁ DISPONIBLE PARA RESIDENTES.