Description
Grace and peace praise dance leader,
It's back to school time. Do you know what that that means? It's back to worship praise dance. I have a very important, dynamic training for you, and your ministry. "The Child Shall Lead Them". How to orchestrate a worshipful and dynamic children's dance ministry. I am joining forces, with my dear friend, Amy Tang, and we are going to be teaching you how to lead the children in dance and to equip them to lead in dance ministry; not just being cute and entertaining the crowd. You will learn how to teach the children to worship the Lord using the Scriptures. You will also learning how to join the dance of heaven. We will also be teaching you, how to use sign language in the children's worship dance ministry. I will also be helping you administer and strategize your volunteers and parents.
Amy and I have a wonderful bonus for you. She is working on a specialized ebook that she is going to give to you a preview copy. And it's called
"10 Worship Dance Lessons for Children". "And the Child Shall lead Them."
And these worship dance lessons are spelled out for you, she has professional photographs in this ebook for you. All the work is done, all you have to do is pray and get your children together and worship the Lord. And that is a $15 value within itself, and it's complementary. And another bonus I'm going to give you is a digital video presentation of how I teach my children during rehearsals and c and a how to choreograph for children. I have a method that I show you that is unique to choreographing for children. And this is all for you during The Child Shall Lead Them teleseminar. Go to the link on this page and register and get involved right away so you be equipped and ready for your children as they come back to, back to worship dance.
Organizer of A Child Shall Lead Them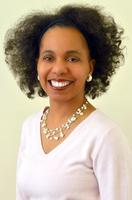 What are people saying about Jocelyn's Ministry?
"Jocelyn, thank you for your anointed and powerful ministry. We are going to have you back." – Keith Childress, Minister of Music, New Life Church, Clinton, MD
"Your anointed ministry was such a vital part of this conference. It made a positive impact upon the lives of all who were in attendance." – Rev. Jacqueline E. McCullough

Jocelyn has served as the chief dancer and choreographer for the Elim International Fellowship in Brooklyn, New York under the visionary leadership of Archbishop Wilbert S. McKinley for ten years. As an anointed dance minister and conference speaker, Jocelyn has ministered for churches and Christian organizations throughout the United States and the Caribbean. Jocelyn has also been involved in arts education in both public and private schools for over twenty years. She began her formal dance education as a child, studying at the Joffery Ballet School, and the Alvin Ailey American Dance Theatre School. Jocelyn has a BA degree in Dance from The City College of New York.
Ministry Assignments At-A-Glance
· Daniel Winans Concert
· Evangelist Jackie McCullough's Family Conferences
· Barbados International Gospelfest
· Bahamas Christian Dance Fellowship
· Caribbean Dance Network Bahamas 
· Christian Dance Fellowship USA
· Recording Artist, Keith Childress Concert & Worship Symposium
· Living Waters Worship Center Conference & Concert with Alvin Slaughter
· Elim International Fellowship, Brooklyn New York Archbishop Wilbert McKinley
· Kingsley Fletcher Ministries, Durham, North Carolina