A Chat with Ben Kaufman, founder/CEO, Quirky.com

Thursday, March 29, 2012 from 5:00 PM to 6:30 PM (EDT)
Event Details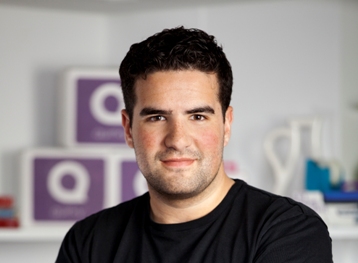 Named one of "America's Coolest Young Entrepreneurs" by Inc. magazine, serial entrepreneur Ben Kaufman is the 25-year-old founder and CEO of Quirky, a social network for product development. Through Quirky's innovative platform, the "crowd" collaborates on every aspect of product creation, from ideation, design, naming, manufacturing, marketing, and even sales. With over $23 million in funding, Quirky generates an average of 60 new products a year and in 2011 alone earned its community $1 million from sales. Passionate and opinionated, Ben will talk about Quirky, product development, design innovation and starting and growing successful ventures.
Ben's entrepreneurial journey started during his senior year of high school with a second mortgage on his parents' house and the founding of an iPod accessory company called  mophie. Shortly after mophie won "Best of Show" at MacWorld 2006, Ben discovered his passion for involving people around the world in the development of new consumer products. The rapid growth of the mophie brand led to its acquisition in August of 2007, which allowed Ben to focus his efforts on bringing his idea of 'social product development' to the next level. After two years of research and development on the unique technology platform that became the foundation of his future work, Ben publicly launched Quirky in June of 2009. His work has landed him in hundreds of newspapers (New York Times, USA Today, New York Observer), magazines (Business Week, Entrepreneur, Inc., WIRED) and TV networks (CNBC, FOX Business News, The Today Show). In 2007, Inc Magazine named Ben the top entrepreneur in the country under the age of 30. He was 20 at the time. Other than participating in the development of awesome new products, Ben's favorite things include his niece Lily, Jay-Z, cool kicks and black t-shirts
When & Where
40 W. 4th Street
New York, 10012


Thursday, March 29, 2012 from 5:00 PM to 6:30 PM (EDT)
Add to my calendar
Organizer
W. R. Berkley Innovation Labs
At the W. R. Berkley Innovation Lab, we have a single mission: to nurture entrepreneurial talent at NYU. We elicit, honor and cherish human initiative, creativity, and passion--the essential ingredients for entrepreneuirial success in this new millennium.  We're talking about a way of thinking that surprises the market again and again with exciting, unexpected solutions. The Lab offers a broad array of insights from research, educational programs, acceleration opportunities, and industry-advising services that provide you with the skills you need to discover and execute bold new ideas.
A Chat with Ben Kaufman, founder/CEO, Quirky.com