A Century of Maritime Archaeology in Egypt
Description
The Maryland Historical Trust's Maryland Maritime Archaeology Program kicks off its 30th anniversary with this lecture generously supported by World Artists Experiences and the Embassy of Egypt: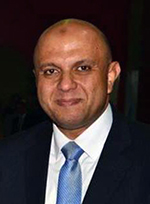 A Century of Maritime Archaeology in Egypt
Dr. Emad Khalil, Professor of Maritime Archaeology, Alexandria University and Director of the Alexandria Centre for Maritime Archaeology & Underwater Cultural Heritage, will present an overview of the most significant maritime archaeological discoveries in Egypt. This promises to be a fascinating lecture with highlights including discussions of the Lighthouse of Alexandria, the submerged towns of Herakleion and Canopus, and other sites dating from between the Old Kingdom and Late Roman Egypt.
Location: 100 Community Place, Crownsville, Maryland 21032
Doors Open: 6:00 pm
Lecture Begins: 6:30 pm
Early registration is strongly encouraged, seating is limited.
Questions ? susan.langley@maryland.gov