A Centennial Soiree: An All White Party Cruise
Description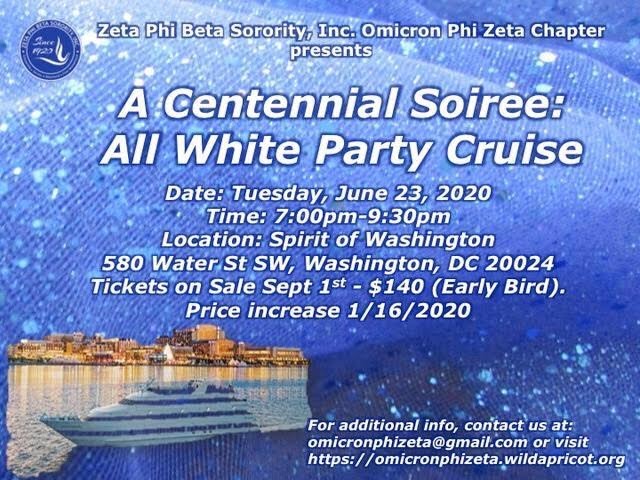 Zeta Phi Beta Soroity Inc. Omicron Phi Zeta Chapter Presents:
A Centennial Soiree: All White Party Cruise
Come celetbrate with the Finer Women of Zeta Phi Beta Sorority Inc. Omicron Phi Zeta Chapter as we sail on the Potomac River taking in the beautiful cites Washington DC has to offer by sea enjoying a lavish buffet and dancing the night away!!!
When: Tuesday, June 23, 2020
Time: 7:00 pm - 9:30 pm
Where: Spirit of Washington
580 Water St SW,
Washington, DC 20024
Early Bird Special Price $140 Price will increase on 1/16/2020
Purchase Tickets here on eventbrite; if you have any questions please feel free to contact us via email: omicronphizeta@gmail.com!
#ophizcentennialkickoff
#ophizallwhite
#ophizannualboatride
#ophiz100years
#dczetas
#ophiz
DISCLAIMER: The user of this ticket hereby consents and authorizes release to use their likeness in photographs or other digital media taken at the event.