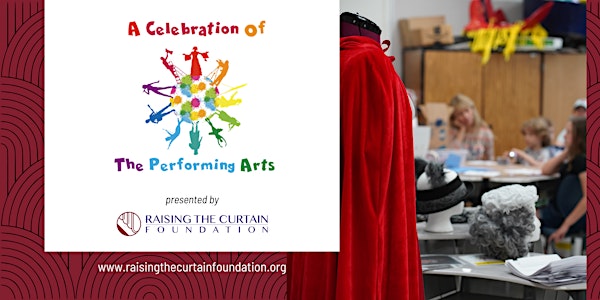 A Celebration of the Performing Arts — Spring 2023
FREE hands-on workshops exploring the various aspects of theater for kids grades 4-6 and their families.
By Raising the Curtain Foundation
Date and time
Saturday, April 15 · 9:30am - 12:30pm PDT
Location
Newhall Family Theatre 24607 Walnut Street Santa Clarita, CA 91321
Refund Policy
Refunds up to 1 day before event
Eventbrite's fee is nonrefundable.
About this event
ABOUT THIS EVENT
JOIN RAISING THE CURTAIN FOUNDATION as we host our SPRING, 2023 A Celebration of the Performing Arts
Saturday, April 15th, 9:30 AM - 12:00 PM PST
Doors open at 9:00 AM for registration, and the event begins at 9:30 AM sharp.
24607 Walnut Street, Newhall, CA 91321 see parking instructions below.
......................................
WHAT TO EXPECT
A Celebration of the Performing Arts is an event that will present a rotation of stations where kids in grades 4 through 6 can learn about theater, directing, costumes and makeup, lighting, sound, and set design. Hands-on activities will be presented by industry professionals to get them excited about the arts.
......................................
STATIONS
Sound
Directing & Blocking
Costumes, Hair & Makeup
Set Design
Lighting
......................................
PARKING
Important note regarding parking: street parking is very limited. We suggest parking in the Newhall Elementary School Staff Parking lot or the Old Town Newhall Public Library.
......................................
Talleres prácticos GRATUITOS que exploran los diversos aspectos del teatro para niños de 4. ° a 6. ° grado y sus familias.
Acerca de este evento
SOBRE ESTE EVENTO
ÚNASE A RAISING THE CURTAIN FOUNDATION mientras organizamos nuestro otoño,2022 una celebración de las artes escénicas.
Sábado, 15 de abril, de 9:30 a. m. a 12:30 p. m. PST
Las puertas se abren a las 9:00 a. m. para el registro y el evento comienza a las 9:30 a. m. en punto.
24607 Walnut Street, Newhall, CA 91321 consulte las instrucciones de estacionamiento a continuación.
......................................
QUE ESPERARUna Celebración de las Artes Escénicas es un evento que presentará una rotación de estaciones donde los niños en los grados 4 a 6 pueden aprender sobre teatro, dirección, vestuario y maquillaje, iluminación, sonido y escenografía. Las actividades prácticas serán presentadas por profesionales de la industria con el objetivo de educar a los niños sobre las diversas especialidades involucradas en el teatro y entusiasmarlos con las artes.
......................................
ESTACIONES
SonidoDirecciónDisfraces, Peinado y MaquillajeBloqueo (Pose a pose)EscenografíaIluminación
Nota importante sobre el estacionamiento: el estacionamiento en la calle es muy limitado. Sugerimos estacionarse en el estacionamiento del personal de la Escuela Primaria de Newhall o en la Biblioteca Pública de Old Town Newhall.
THIS EVENT IS SUPPORTED BY:
Raising The Curtain Foundation
A Celebration of the Performing Arts is part of the Newhall Family Theatre and Raising the Curtain Foundation's goal of educating the community about the arts while encouraging their involvement.
The Newhall Family Theatre is part of the campus of Newhall Elementary School (24607 Walnut Street, Newhall) and is a performance space available for local groups and production companies to rent for shows, lectures, plays and musicals, and events open to the community. Raising the Curtain Foundation supports and enhances the Newhall Family Theatre as an inclusive performance venue for members of the community, artists, students, and educators.
In Partnership with the Newhall School District and have open doors to surrounding districts.
......................................
MISSION
The mission of Raising the Curtain Foundation is to enhance the Newhall Family Theatre for the Performing Arts, an inclusive performance venue for members of the community, artists, students, and educators. Founded in 2018, the Foundation will help create and promote programming held at the Newhall Family Theatre to help introduce the performing arts to the local community.
Raising the Curtain Foundation is a 501(c)3 non-profit organization, tax ID #83-1308176