Description
GREAT-GREAT GRANDSON OF FREDERICK DOUGLASS TO SPEAK AT MEDGAR EVERS COLLEGE IN BROOKLYN TO HONOR OF THE 200TH ANNIVERSARY OF DOUGLASS' BIRTH.
The Center for Black Literature, in Conjunction with AKILA WORKSONGS, to Present Douglass Relative, LLOYD WEAVER, and Best-Selling Author HERB BOYD to Discuss the Douglass Legacy in The Era of Trump. DR. BRENDA M. GREENE to Moderate:
February 26, 2018 at 6:30pm. Free Admission.
In honor of the bicentennial birthday of Frederick Douglass, one of the most revered abolitionists of the 19th century, the Center for Black Literature at Medgar Evers College (CBL), in conjunction with AKILA WORKSONGS, will present a Black History Month program featuring a talk with Lloyd Weaver, the great-great-grandson of Frederick Douglass.
"A Celebration of the Frederick Douglass Bicentennial" will take place Monday, February 26, 2018 from 6:30 pm to 8:30 pm at Medgar Evers College in the Edison O. Jackson Auditorium (located at 1638 Bedford Avenue in the Crown Heights neighborhood of Central Brooklyn). This CBL Black History Month program is associated with the 2018 National Black Writers Conference (NBWC2018) as a pre-conference event. NBWC2018 will also be held at the college, March 22–25. To learn more about the conference, visit www.centerforblackliterature.org.

THE EVENT IS FREE AND OPEN TO THE PUBLIC. Seating is very limited. * To register and learn more about the featured guests and presenters, visit www.frederickdouglass200mec.eventbrite.com (if on the Eventbrite site, scroll down). This event is also posted on Facebook and Twitter.
Media and general inquiries are directed to the AKILA WORKSONGS office at (718) 756-8501 or via email at pr@akilaworksongs.com.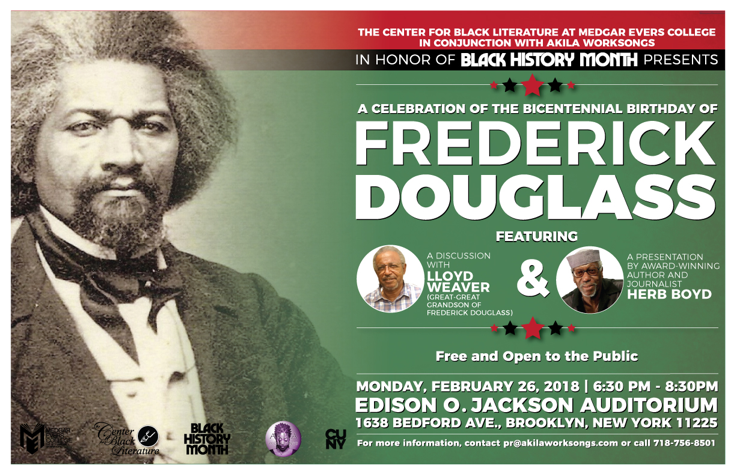 * ADMISSION and SEATING POLICY: This event is open to the public and thereis no cost to attend. Seating, however, is very limited. Please register in advance via Eventbrite. Arrive at least 15 minutes before the program starts in order to have the best opportunity to be seated. For those who register and arrive early: first come, first seated. Once the program begins, any empty seats will be released. No seat is guaranteed nor will any seat be held exclusively. A wait list will be created automatically when we reach full capacity.

ABOUT THIS PROGRAM :: At this Center for Black Literature Black History Month event, Lloyd Weaver will share keen insights on the personal and political life of Douglass and on the implications on his legacy today. Weaver will also share insights on Anna Murray Douglass, abolitionist and first wife of Frederick Douglass—insights not previously known. She was very instrumental in facilitating Douglass' escape from slavery and his rise to prominence as an esteemed writer, orator, and abolitionist.
The program will also feature award-winning author and journalist Herb Boyd. Boyd will provide a framework for the importance of the Douglass legacy in the age of Trump. The discussion with Mr. Weaver will be moderated by Dr. Brenda M. Greene, Executive Director of the Center for Black Literature.
# # #