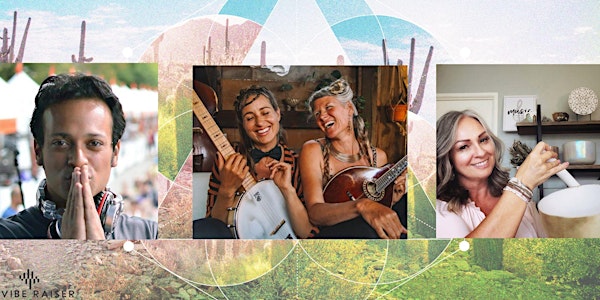 A Celebration of New Earth Consciousness with MaMuse & DJ Taz Rashid & Joya
We are RAISING THE VIBE through the power of devotion, song, dance & intention. Join us for a celebration of New Earth Consciousness.
When and where
Location
The Sunkist Warehouse 254 West Broadway Road Mesa, AZ 85210
About this event
Vibe Raiser is a conscious event to create More Joy. More Peace. More Love. More Connection to Source. It's a celebration of New Earth Consciousness as we assist the collective consciousness in mass awakening.
We are about to RAISE THE VIBE of the collective consciousness - and have SO much fun doing it. Come and BE the vibe you wish to see in the world!
Experience the power of a high-vibe community, coming into heart and resonant coherence together, raising our voices together, holding the intention of global LOVE and PEACE for each other, for our communities and for the WHOLE WORLD.
Rev. Joya will lead us all in a chant - we will all sing ONE note, holding the intention of love & peace.
FEATURING - MaMuse will play an audience participation concert we can all sing and groove to, and then DJ Taz Rashid will bring us into a conscious dance party!
Your voice + energy matter. Our planet is changing its vibration and our mission is to assist the awakening.We are about the CHANGE THE WORLD and have fun doing it. Who says conscious events aren't fun?
PURPOSE: To assist the global awakening through raising the collective consciousness of The Field. 5% of all our profits are going back to Harmony Project Phoenix.
SCIENCE: We are in collaboration with Heart Math Institute who will be measuring the field coherence of this event. You can listen to the science on our podcast, We Woke Up Like This.
Join is in person in Mesa, AZ OR LiveStream and participate from where you are.