Description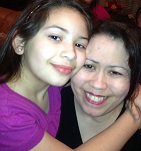 The beneficiary of this year's memorial fundraiser is, once again, the Sara Murray Educational Fund. The much-beloved daughter of Jessica and Ray Murray, Sara turned 11 in March. While she very much misses her deceased parents, she is truly surrounded by caring family. Sara's Aunt Viv and Uncle Ron have welcomed her into their home and kept her in touch with grandparents, siblings, cousins, and aunts and uncles at frequent family gatherings.
Like her mom, Sara is an avid reader. She LOVES school and continues to maintain straight A's. Now more athletic as well, she has strong interests in volleyball and basketball. When she was introduced to the guitar in music class this year, Sara was so taken with the instrument that she received one for Christmas. She'll be starting lessons soon! Although she may seem shy, Sara has many friends and teachers who support and encourage her.
Sara has a full social calendar, so Viv and Ron are busy keeping up with her play dates and movie nights, while juggling errands and chores as a family. Uncle Ron is a bit of a taskmaster and the "go-to" guy for homework help, while Aunt Viv helps Sara stay organized and keep up with daily routines. They completely agree that Sara is a loving, kind-hearted, deeply caring girl who has brought them much joy.
Your gifts to Sara's education fund—along with your presence at this healing event—will help ensure that Jessica and Ray's "miracle baby" faces the future with a hopeful heart and all she needs to flourish. We hope you can join us in encircling Sara with love and sharing stories that bring us tears and laughter. Thank you for your generosity.