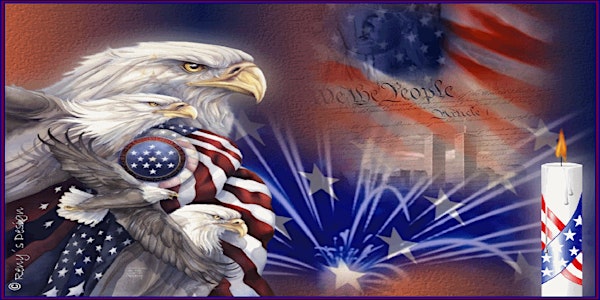 A CELEBRATION OF FREEDOM: COBB GOP ANNUAL JULY 4th BBQ AND STRAW POLL
When and where
Location
Jim R.Miller Park 2245 Callaway Road Southwest Marietta, GA 30008
Description
YOU ARE INVITED TO CELEBRATE 241 YEARS OF FREEDOM!!!
Adult (Age 12+): $10 in advance, $15 at the door.
Chlidren 5-11: $5 online and at door.
Children 4 and under are FREE (but still need a ticket to attend).
BE A FREEDOM SPONSOR -
Banner only ($100)
Grass Roots ($100) no table, no banner, 2 tickets (passing out material personally)
Bronze ($250) Half table & 3 tickets and banner
Silver ($300) Full table & 5 tickets and banner
Gold ($500) Full table & 10 tickets and banner
Platinum ($1,000) Full table & 20 tickets and banner
Diamond ($1,500) Full table & 30 tickets and banner
Sponsors get to pass out campaign or business materials. Either pay by credit card by choosing a sponsorship ticket or download this form and send it in with your check.
The Cobb County Republican Party invites you to join us in celebrating our Country's FREEDOM! Our forefathers, the signers of the Declaration of Independence in 1776, created a new nation, born free and independent - the UNITED STATES OF AMERICA. And eleven years later, in 1787, in Philadelphia drafting the Constitution of the United States of America, which would govern our new nation, and in 1789, after it was ratified, we were a full, self-governing nation.
Each year we gather to celebrate the FREEDOMS gifted to us so many years ago. The Cobb GOP has planned a celebration on July 4th to gather with fellow Republicans in celebrating the values we believe to be the heart of our party.
You will have the opportunity to speak with fellow Republican candidates vying for Governor, Lt. Governor, and the Secretary of State of our great state of Georgia. Now is the time to ask them those burning questions you've been needing answered.
We will recognize our current Military and our Veterans and thank them for their sacrifices to guard our country and protect our FREEDOMS. Every branch of our Military will be recognized, so wear your uniform or cap in order for us all to know who you are to say a personal THANK YOU. If you are the spouse of a deceased Veteran, please wear something that will help us recognize you and thank you as well.
As we always do, because, well, we're in the South, there will be a good old-fashioned Bar-B-Que happening with your favorite Southern desserts - Apple and Peach Cobbler YYYYYUUUUUUUMMMMMM! (Bring your own whipped cream though - the heat in the South makes it look like milk was poured over it! LOL)
We'll have music to enjoy and, if you are so inclined, you may cut a quick-step or two. Just show us whatcha got!
Now, we know July 4th wouldn't be the same without some kid fun, so, we have an area specifically for the children with games, some cool experiments, craft projects, and much more to keep them entertained. However, parents must remain with children in the children's area. This is for their own protection as it is an outdoor covered area but not attached to the main event venue.
* There will also be an opportunity for you to take part in a Straw Poll for Governor, Lt. Governor, and Secretary of State.