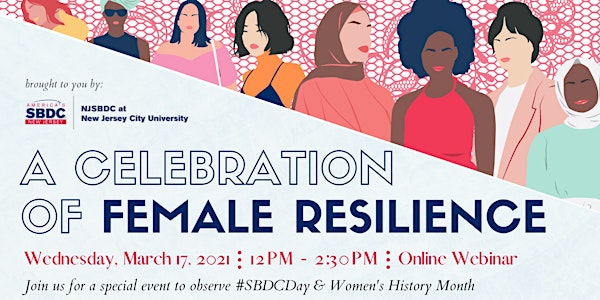 A Celebration of Female Resilience
"Empowered women, empower women."
About this event
To celebrate #SBDCDay and Women's History Month, NJSBDC at NJCU is assembling esteemed women leaders from the community to speak on what female resilience means to them; what women leadership is; the importance of supporting and uplifting other women; and how they have leveraged their success to help others in Hudson County.
Featured Panelists:
Venida Rodman Jenkins, Director of Speicher-Rubin Women's Center for Equity and Diversity, NJCU
Soraya Hebron, Director of Diversity and Inclusion, City of Jersey City
Ivonne Barreras, MPA, M.Phil., ABD, Founder & CEO, Liberty Montessori: The Place for Learning
Karen McIntyre, Senior Consultant, NJSBDC at NJCU
Moderated by: Gail Marquis, MBA, OLY, Director of Development, NJCU.
Agenda:
12:00PM - 12:30PM: Opening remarks from various guest speakers.
12:30PM - 02:00PM: Panel Discussion
02:00PM - 02:30PM: Q&A
Who should attend this event? Everyone! Refer your friends and family to this inspirational occasion and let's all celebrate women empowerment together!