Description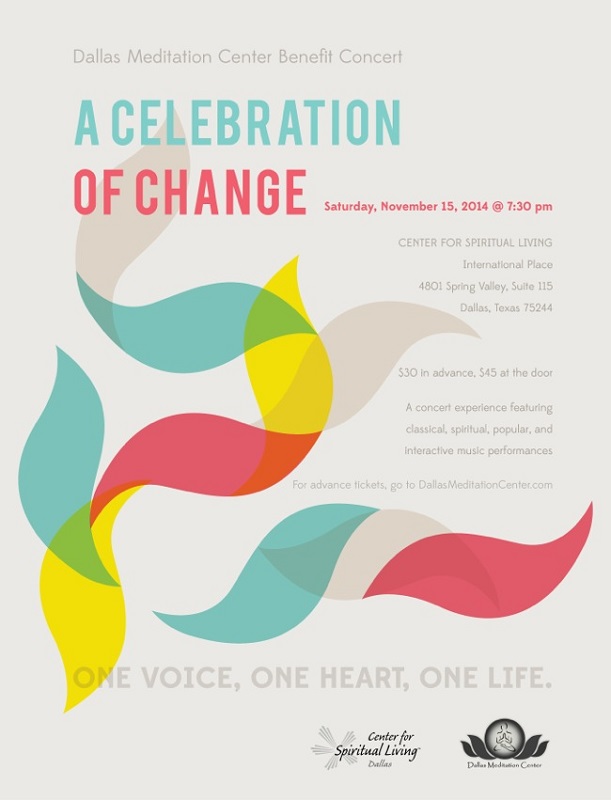 Get your tickets now and save $15
Music will be in the air in the north Dallas area on Saturday, November 15, in "A Celebration of Change," a concert featuring Classical, popular, spiritual, world and interactive music performances. The evening will feature some of the Metroplex' finest, world-renowned performers, whose work spans multiple genres.
Among the concert lineup, is mezzo soprano Noelle Woods Chesney, whose resume includes performances with the Dallas Lyric Opera, Columbus Light Opera and the Evansville Philharmonic Orchestra. For this concert, she will perform works by Messenet, Poulenc, and Rodgers & Hammerstein. Vocalist and pianist Andrew Tinker's work reflects a broad range of pop styles. It has been described as both emotionally raw and refined at the same time, in just the right ways, always unified by standout musicianship. Among many other accomplishments, his music is prominently featured in the soundtrack for the 2013 full length feature film, Ain't Them Bodies Saints. Multi-instrumentalist Cornell Kinderknecht brings a world music style that infuses his rich Classical background with his experience in pop and folk styles. Recently back from a solo performance at Carnegie Hall, he's been named an Indian Summer Music Award winner and has twice been a finalist for Musician of the Year at the Texas Music Awards. The ensemble Taikodelic is an American exploration of the Japanese style of drumming called Taiko. Employing many sizes of drums, the group combines precision, choreography and playfulness, melding a traditional musical art form with contemporary expression. These performers are just a small sampling of the extraordinary talent that is on board for this unique concert experience.
Music director for the concert is composer Jamie Allen, who holds the position of Education Director for the Dallas Symphony Orchestra. He is the recipient of numerous ASCAP and American Music Center Awards. One of his compositions, "Dime Illuvia" for piano, flute and percussion will be performed on the concert.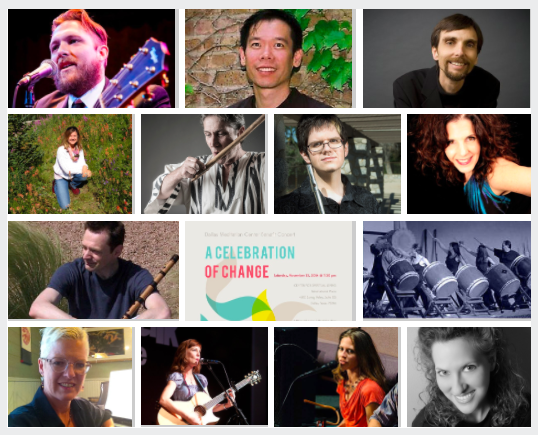 The full lineup for the evening includes Kerri Arista, Toni Austin-Allen, Lainey Bernstein, Brother ChiSing, Noelle Woods Chesney, Jamie Allen,Timothy Hagan, Cornell Kinderknecht, Michael Kenny, Cynthia Stuart, Taikodelic, and Shanti Webb.
Doors open at 7:00pm and the show starts at 7:30pm.
It will be held at the Center for Spiritual Living,Dallas,4801 Spring Valley Rd, Suite 115, located in north Dallas, near the Galleria area. The beneficiary of the proceeds is the Dallas Meditation Center, a not-for-profit business that presents programs and classes in meditation and mindful living, founded by Brother ChiSing, a disciple of Zen master Thich Nhat Hanh.
Impermanence may be the nature of existence, but let's make sure the DMC lives on for many joyful years to come! More than ever before, we need the support of our community. Will you help us with your presence & generous donation?
Tickets are $45 dollars at the door but are only $30 if purchased in advance. Buy yours early & save! (Additional tax-deductible relocation donations welcome).
► Groups - A sponsor who sponsors 4 @ $30 each gets a 5th ticket FREE (offer expires on Friday, Nov 14).
► Buy an extra ticket (as many as you choose) as your Donation! You can invite a guest, and they can simply give a love offering at the door.
► Be on our Street Team! Get a poster for this event to post at your local hangout spots.
► LIKE: DallasMeditationCenter on Facebook and JOIN & SHARE the "A Celebration of Change" concert Facebook event
If you are interested in finding out more about our center & ways you can donate & help further, please visit: http://www.dallasmeditationcenter.com/
Organizer of A Celebration of Change
The Dallas Meditation Center is an interfaith, spiritual home for the teaching and practice of authentic and genuine traditions of meditation and mindful living.  We provide a welcoming, safe environment for all who wish to begin or deepen their spiritual practice.  Learn more at www.DallasMeditationCenter.com.