There's a lot of information out there about resumes. Come learn what resumes should contain, how they should look & how to "beat the bots".
About this event
A resume is the most important professional asset for a job search, and everyone seems to have a different opinion on what works best. So, how do you craft a resume that gets you noticed amongst a sea of applicants? What information is most important to include, and what should it look like? What the heck is an Applicant Tracking System, and how do I "beat the bots" (hint: that's a myth).
Join career strategist and coach Amy Santee for live feedback on real UX researcher resumes from current practitioners and people transitioning from academia and other fields. Based on insights from her work with successful job seekers, Amy will set the record straight (in a candid and caring way) on how to effectively talk about your experience, skills, and impact, and dispel common myths and misinformation.
**If you would like to volunteer your resume for feedback, please submit them using this form: https://forms.gle/XWwc3pVQuauAU2Ab7
**Please note that by sending in your resume for this event, you consent to having it shared publicly (with all personal info removed) during the event and via recording.
Networking topics
UXRS strives to create a community where people can make meaningful connections with others in the UX field. Come for the presentation, stay for the UX networking.
Topic1: What is your dream job? What company or organization do you want to work for in the future?
Topic 2: What is the best resume advice you've ever received?
Agenda
5:00 -5:10 p.m. (Central time, similar to Chicago and Dallas, USA) - Introduction and announcements for UX Research and Strategy
5:10-6:10p.m. (Central time) - Speaker + Q&A
6:10 -7:00 p.m.(Central time) - Networking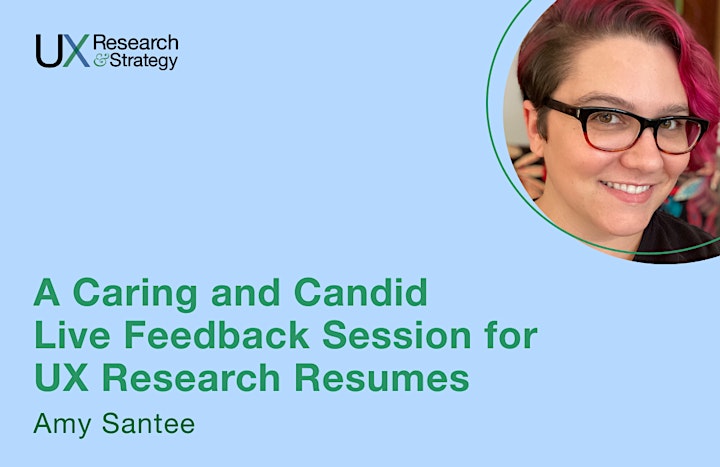 Presenter
Amy Santee (she/her) is a Career Strategist and Coach for UX professionals who want to design their careers with intention and bring their good to the world. She loves partnering with individuals to build confidence and courage, develop a unique professional brand, find jobs they love, and show up as leaders. Prior to coaching, Amy built a career as a UX researcher, working on end-to-end product development and strategy with all flavors of organizations, including eBay, Lowe's, General Motors, and the City of Portland. In her free time, she enjoys weight training, birding, gardening, and exploring the outdoors of the Pacific Northwest.
This event is limited to the first 1,000 who enter the Zoom meeting.
We know this speaker is going to be awesome and high demand. So please consider whether you will actually be able to attend to make room for those who are eager to be there.
** Please Consider Donating **
A Donation Ticket to this webinar is the same as a regular admission ticket to the event. Plus, you are helping keep this event FREE for attendees around the world. Please consider getting a donation ticket as your admission ticket to help UX Research and Strategy provide events like this to the UX community. If you prefer to donate to us directly, and bypass Eventbrite fees, donate now through PayPal.
Host: UX Research and Strategy
UX Research and Strategy is a registered 501c3 group devoted to teaching and exploring topics related to User Experience Research and Strategy. Started by three very talented ladies, Jen Blatz, Lorie Whitaker, and Lauren Singer, who saw the need to address the gap in these topics in the local UX community. The hope for this group is to enrich and complement the UX Design community through knowledge sharing and partnership.
Whether you are a researcher, designer, product owner, strategist, content creator, project manager, developer, technologist, marketer, customer experience pro or any other discipline, please join us.
For more information:
Please note that by attending our events, you are granting us permission to potentially use a photograph including you on our social media channels and website. Don't worry, we will try our best to make you look good.
For online events, and for your privacy, if you do not want your name or image potentially appearing on a Zoom screen, please anonymize your name in Zoom and hide your video.
Please note, we are unable to refund donations.
A Zoom link to the webinar will be provided in your confirmation ticket. Scroll down through the email and you will see the zoom link to join.
UXRS code of conduct. By getting a free or donation ticket to our events, you agree to read and abide by the conditions of this code of conduct. Failing to do so will result in immediate removal from our events and any social media channels. We expect you to be respectful of everyone in our UXRS community.
Thank you for your support!