Description
Please join us as Cleary University, with the support of the Livingston Diversity Council, honors Black History Month by advancing the conversation about race in America.
Race is an important issue that impacts our lives personally. It also shapes who we are as a community. Its effects live not just in what we say, but in the things that we don't have the courage to say. This event will help us to build the skills to have candid conversations about race. We will feature an interactive discussion and a panel including Rochelle Riley, award-winning author and journalist, and Rocky Raczkowski, veteran, entrepreneur, and politician. They represent two different perspectives that will contribute to a vibrant and thoughtful conversation.
A Candid Conversation on Race event is free and open to the public. All are welcome to attend and participate. Registration is preferred.
During the event, DMJStudio, is hosting an exhibition, Posters on Politics, an exhibit of posters visually depicting politics around the world. Displaying 24 posters touching on some of today's most pressing political subjects. Donna Jackson, the owner of DMJStudio and curator of this exhibit, expresses the need for this exhibit. "Political dynamics are changing not only in America but around the world, and every day we as global citizens are affected by what is happening in our hometowns as well as thousands of miles away. Jackson also says, "that this exhibit shows the global view of politics while providing a platform for all to learn, connect and understand what we all want in our government, policies and for future world citizens.
Doors open at 10:30 a.m. with the event beginning at 11:00 a.m.
Event Agenda
11:00 am -- 11:05 am: Welcome and Purpose, Dr. Marlo Rencher
11:05 am -- 11:10 am: Greetings from Cleary, Dr. Jayson Boyers, President and CEO
11:10 am -- 11:45 am: Film Clip Showing
11:45 am -- 12:30 pm: Lunch and Table Talk Activity
12:30 pm -- 1:15 pm: A Candid Conversation on Race Panel, Rochelle Riley and Rocky Raczkowski
1:15 pm -- 1:35 pm: Audience Q&A
1:35 pm -- 1:40 pm: Program Close with Invitation to Sign Books
1:40 pm -- 2:15 pm: Book Signing
---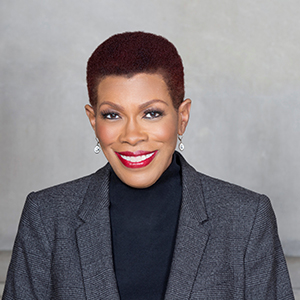 Rochelle Riley's Bio
Rochelle Riley, who always works with two phones, is a columnist for the Detroit Free Press, where she is a leading voice for children, education, competent government and race. She is author of "The Burden: African Americans and the Enduring Impact of Slavery" (Wayne State University Press, 2018). She also is a co-founder of Letters to Black Girls project that grew from a single presentation to a national mission to pass words of encouragement from black women to girls.
Rochelle makes frequent television and radio appearances, including on National Public Radio and MSNBC and Fox2. She has won numerous national, state and local honors, including a National Headliner Award for local column writing. Her debut column for The (Louisville) Courier-Journal called on the city of Louisville to build a museum to honor native son Muhammad Ali. It helped spur an $80 million to build the Muhammad Ali Center, which now sits on the Ohio River.
Her columns on the text message scandal that led to the imprisonment of former Detroit Mayor Kwame Kilpatrick were part of the Free Press' 2009 Pulitzer Prize-winning entry for local news. She received the 2017 Eugene C. Pulliam Editorial Fellowship from the Society of Professional Journalists and the 2017 Ida B. Wells Award from the National Association of Black Journalists for her outstanding efforts to make newsrooms and news coverage more accurately reflect the diversity of the communities they serve. And she has received the Will Rogers Award from the National Society of Newspaper Columnists for community service.
Rochelle is a global traveler who has been to 28 countries and counting. She was a 2007-2008 Knight-Wallace Fellow at the University of Michigan, where she studied online communities and film. She was a 2016 inductee into the Michigan Journalism Hall of Fame and will be a 2019 inductee into the N.C. Media and Journalism Hall of Fame.
---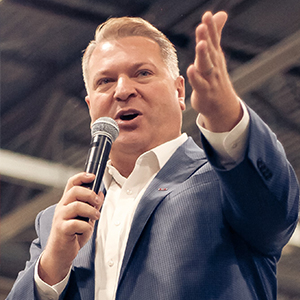 Andrew "Rocky" Raczkowski's Bio
Lt. Colonel Rocky Raczkowski (U.S. Army, retired) has a career that includes business, politics, and military service. Upon graduation from college, he was commissioned through the Officer Candidate School Program. He was later awarded the Bronze Star Medal for meritorious service during combat operations.

Rocky is a successful serial entrepreneur. He led a national service company from near bankruptcy to profitability without a single layoff. Currently, he is the president of Imperium Logistics LLC and serves on several corporate boards.

In 1996, Rocky was elected to the Michigan State Legislature as a State Representative. In 1998, he was elected by his fellow Representatives as the youngest majority leader of any state's House of Representatives in the nation. In 2002, Rep. Raczkowski was term-limited by a state constitutional amendment that he worked to pass. In 2010, Rocky ran for Congress. While his bid was ultimately unsuccessful, it was the second closest race in the nation.

Rocky is active in charitable work and serves on the board of ALS of Michigan and the Michigan chapter of the American Red Cross. He is a frequent guest commentator on political and national security issues on radio and television, most notably on "Let it Rip" on Fox 2 Detroit.

Rocky Raczkowski holds a BA in Political Science and Psychology from Eastern Michigan University and completed a Masters in Administration from Central Michigan University and a Juris Doctorate from Michigan State University College of Law. Rocky also has a keen interest in foreign languages and speaks three fluently.
---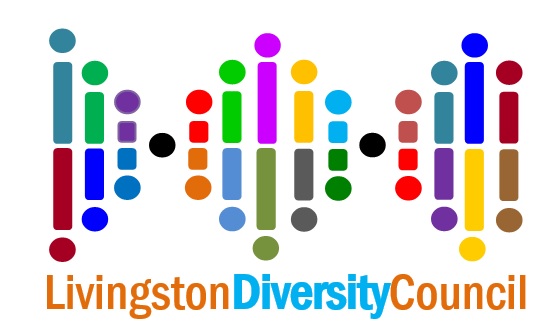 Livingston Diversity Council
We are a grass-roots organization of business people, private citizens, educators, government officials, and clergy who live or work in Livingston County. We embrace and advocate the virtues of diversity and inclusion within and for our community.
Our mission is to lead our community to become ever more welcoming, harmonious, and prosperous. Our country was founded on a commitment to equality. We believe that everyone has the right to be judged, rewarded and held accountable on the basis of individual action, regardless of race, creed, gender, disability or sexual orientation. We are committed to upholding these rights for the benefit of all. Further, we believe that the economic and social progress of our community in today's world is heavily reliant upon successfully embracing diversity and inclusion.
We believe that enlightened self-interest is the key to successful change. To that end, we work with interested individuals, groups, and organizations to develop and implement programs designed to inform and educate our community of the economic and social value and importance of embracing diversity and inclusion. We speak out against discrimination and work actively to end violations of individual rights.