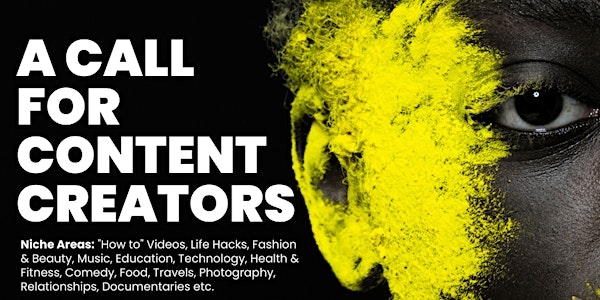 A Call for Content Creators - 2022
For content creators producing video content and planning to reach a wider audience on YouTube and other platforms.
About this event
About Faceless Group Inc.
At Faceless Group Inc, we are a talent management & influencer marketing agency aimed at enabling African content creators grow their earnings globally. We help YouTubers, Content Creators and Artist grow faster and start earning early from their creatives.
Our Value proposition to Content Creators
Close support for content creator who are willing and ready to invest time in the development of their content and someday aim to own a readily monetized channel
Continuous learning process: trainings for creators, participation in webinars and seminars from our specialists
Adapting your content for distribution in targeted regions
Carrying out SEO optimisation of your content
Providing guidance on maximising the utilisation of YouTube's algorithm
Help in proper ad selection and placement to ensure the highest conversion rates.
A direct interest in seeing every African content creators grow.
Our specialists will help you to protect your unique copyright on YouTube.
We provide a 24/7 content creators support system.
Who can apply:
Any creator producing video contents and planning to reach a wider audience on YouTube and other platforms.
How to Apply:
Step 1: Fill out the application form providing the following information: full Name, email address, active WhatsApp number, a link to your Youtube channel (If you've got one), a short bio about your creative self, and select your niche of interest
Step 2: Create a short inspiring video that helps us determine if you've got a talent worth showcasing to the world in any of the below-listed niche areas (Note: Your video should be a maximum of 10mins content):
"How to" Videos
Life Hacks
Fashion & Beauty
Music
Education
Technology
Health & Fitness
Comedy
Food
Travels
Photography
Relationships
Documentaries
Others
Step 3: Upload Your video on YouTube, Save it as unlisted, and share the link in Section 3 of the application form.
Step 4: Click the Submit button to complete the application process.
Step 5: All Selected Applicant will be contact through their provided email.
Application Schedule
Application Start Date: 19th November, 2022
Application Due Date: 30th November, 2022
Application Review End Date: 12th December, 2022
Selected Applicant Notification of Admission: 15th December, 2022
Application Fee:
Application is FREE!!!
Let's help you monetize your fame today!!!