A Buddhist Perspective on Death - How to Help Others and Ourselves
Learn how to meditate before, during and after death and make life and end-of-life deeply meaningful for yourself and others.
About this Event
We are alive, therefore we will die. But do we know what to do when death approaches? Because everyone experiences loss and everyone will die, it is sensible and realistic to be prepared for death. Buddhist teachings clearly explain the death process and meditation practices for before, during and after death. Engaging in these practices for ourselves and others makes our lives and the end-of-life process deeply meaningful, and enables us to help those who are dying.
During this day course, Gen Rinzin will guide a practical understanding of the death process, explain methods to prepare for our own death, and describe ways of helping those who are dying. He will also introduce the practice of Powa (or transference of consciousness) whereby our own or others' consciousness is transferred to a Pure Land rebirth. Engaging in powa is one of the kindest things we can do for ourselves and for others. We will also learn simple Buddhist last rites given by Venerable Geshe-la in 2019.
Materials will include: Joyful Path of Good Fortune; Living Meaningfully, Dying Joyfully; and Powa Ceremony sadhana.
Everyone is welcome, regardless of background or previous meditation experience.
Recordings of the sessions will be available on-demand for one week after the event.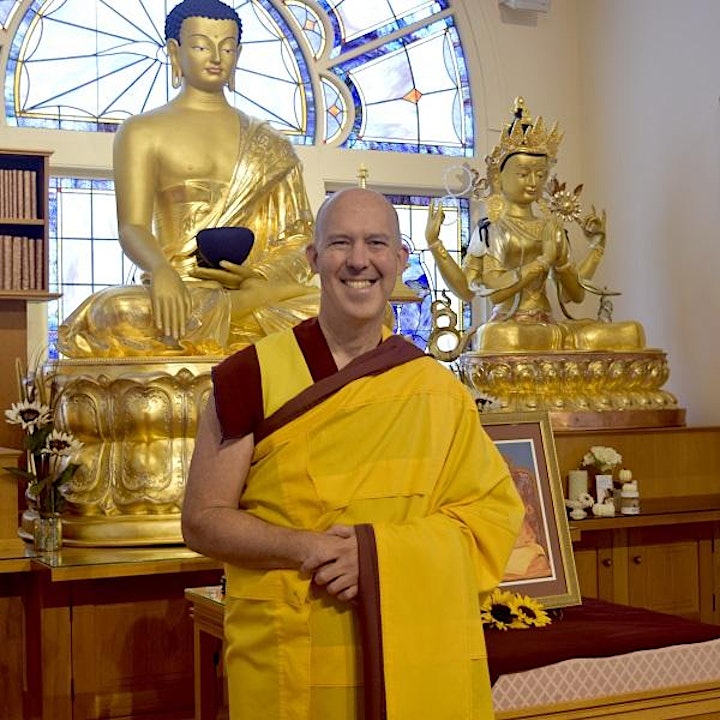 About the Teacher
Gen Kelsang Rinzin was ordained as a Buddhist monk in 2004 and taught at Heruka Buddhist Center in Fort Collins for 15 years. He was appointed to the Resident Teacher position at Kadampa Meditation Center Washington in October 2020. Gen Rinzin communicates his love of Dharma with a down to earth approach and humor that helps others to appreciate and understand the teachings and put them into practice. His teachings are clear and practical so that the listener can readily integrate the methods for keeping a peaceful mind into their busy, modern life.
Event Schedule
9:30 -10:45am - Death is a natural part of life
11:15am -12:30pm - Stages of the death process
2:00 - 3:15pm - How to prepare for death and how to help others
3:45 - 5:00pm - Transference of consciousness; the actual practice
Registration
$45 ($25 for supporters of Kadampa Meditation Center WA).
This event is being offered by live-stream for those in the Pacific Northwest region of the US (including WA, ID, MT & AK; outside this area? Find a Kadampa Center near you). Registrants will receive a link enabling them to watch and listen by phone, tablet or computer.