Description
Nik Sharma was born into a bicultural household in Bombay (Mumbai), India, where a peaceful co-existence of cultural and religious differences was a way of life. With a Hindu father and a Catholic mother, he has fond childhood memories watching his parents and grandmother preparing family meals with great enthusiasm and love. Arriving in the US on the cusp of adulthood, he came with hopes for a future that offered the freedom to live his life as a gay man. After a career in the pharmaceutical industry he now runs the award-winning blog A Brown Table, sharing recipes inspired by his experiences growing up in India and the United States. Read more about Nik's story here.

---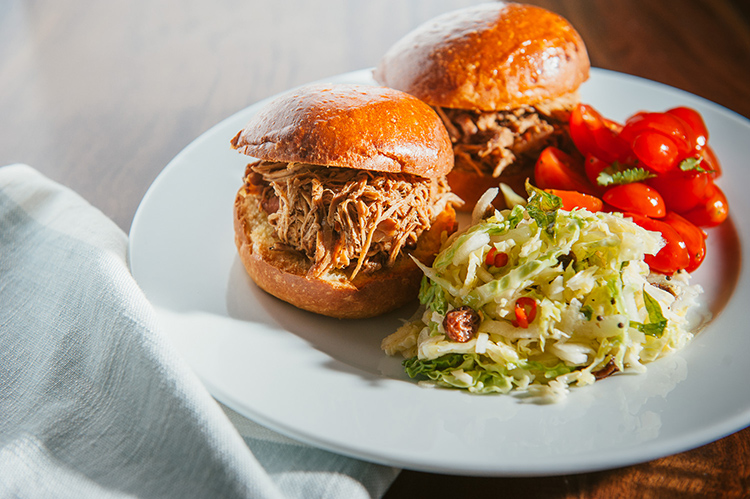 THE MENU*
To start:
Pickled Lemons in Olive Oil
Herb and Chile Dip (D)
Bread (W)
Salted Mint Lassi with Chile and Cumin (D, NS)

Mains:
Summer Tomato Salad with Sweet Tamarind Dressing (NS)
Pulled Chicken Sandwiches in Amchur and BBQ sauce (W)
(Vegetarian option) "Pulled" Portobello Sandwiches (W)
Apple Cabbage Slaw with Black Mustard
Mashed Potatoes with Nigella Seeds (NS)

Dessert:
Stone Fruit Salad with Spiced Maple Syrup and Whipped Cream (D)

*Allergen indicators: D = dairy, W = wheat, N = nuts, NS = nightshades.
---
IMMIGRATION EQUALITY

This meal benefits Immigration Equality, an organization staffed by immigration attorneys who provide free direct legal services to lesbian, gay, bisexual, transgender, queer (LGBTQ), and HIV-positive immigrants. For more than 20 years, their work has helped vulnerable populations such as asylum seekers fleeing to the US for safety, detainees trapped in immigration jail facilities and LGBTQ immigrant and binational couples and families separated by oceans. Learn more about their work here.

FAQs
Is my ticket transferable?
Yes. If you are unable to attend an event you are welcome to pass this along to a friend who can take your place. Please send a note to hello@tapestrysuppers.org informing us of this change.
What's the refund policy?
For cancellations up to a week (7 days) prior to event date: 100% refund minus $3 cancellation fee.
For cancellations up to 3 days prior to event date: 50% refund minus cancellation fee.
No refunds for cancellations made less than 3 days prior to the event.
How can I contact the organizer with any questions?
Send an email to: hello@tapestrysuppers.org.