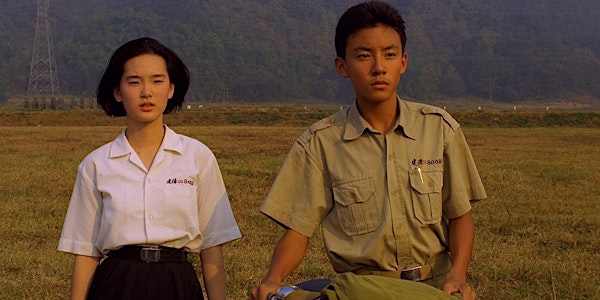 A BRIGHTER SUMMER DAY @ The Secret Movie Club Theater
A BRIGHTER SUMMER DAY @ The Secret Movie Club Theater
When and where
Location
The Secret Movie Club Theater 1917 BAY ST 2ND FL LOS ANGELES, CA 90021
Refund Policy
Refunds up to 1 day before event
About this event
SECRET MOVIE CLUB presents
Part of our PASSPORT TO NOIR Series, Wednesday, November 16, 2022
LOCATION: The Secret Movie Club Theater, 1917 Bay Street, 2nd Floor, Los Angeles, CA 90021
*Please note entrance/parking is actually in the back of the building. Make a right on Wilson Street, then a right behind the building. We're the first set of black steps after the big gate.
7pm A BRIGHTER SUMMER DAY (1991, dir. Edward Yang, Janus, Taiwan, 237mns, DCP)
We kick off our Passport to Noir series with Edward Yang's Taiwanese epic of such overwhelming power, it must be seen to be believed. A Brighter Summer Day tells the story of Taiwanese teen Zhang Zhen who drifts into juvenile delinquency, tormented love with fellow student Ming, rock and roll, and political upheaval in the late 1950's and early 1960's. Showing a facility with connecting the personal to the cultural to the political, Edward Yang adroitly makes us understand the frustration, despair, energy, and rage of an entire nation at the mercy of geo-political forces. But he does it by micro-focusing on one teen's descent into crime and unhinged emotion.
A beautiful film whose noir is mostly pulled off in bright daylight (though there are several rock and roll concert scenes at night that pulsate with teen energy), A Brighter Summer Day is one of those masterworks of world cinema that somehow communicates oceanic depths while focusing on the plight of very specific characters.
Come watch it and be inspired and blown away by its ambition, its humanity, and its insight.
Best always,
Craig Hammill
Secret Movie Club Founder.Programmer
FREQUENTLY ASKED QUESTIONS
REFUNDS:
We can offer refunds up to 24 hours before showtime. Please request a refund through Eventbrite and we will process ASAP. After that, no refunds. Sorry.
However if something last minute comes up and you can't make the screening, for whatever reason, just write to us before showtime: community@secretmovieclub.com and we'll offer you complimentary tickets to a future screening, good for 90 days. (Disclaimer: Future screening must have available tickets, cannot be a fundraiser, and must be comparably priced)
HELPFUL SECRET MOVIE CLUB (1917 Bay Street, 2nd Floor, LA, CA 90021) THEATER PARKING TIPS:
We recommend that you park just outside our theater. Remember our theater is actually in a beautiful street art alleyway in the back of the 1917 Bay Street building. You get to our entrance by taking a right on Wilson, then a right behind the building. We are the first set of black steps on the right after the big gate.
There is also a parking lot at the corner of Mateo and Violet Street, just 2 blocks from our theater, which costs $7 per car.
HOW CAN WE STAY ON TOP OF NEWLY ANNOUNCED 35MM SCREENINGS, EVENTS, ETC?
You can follow us on Instagram/Twitter: @secretmovieclub or Facebook: @secretmovieclub35mm
You can also subscribe to our weekly email newsletter at secretmovieclub.com or by writing to us at community@secretmovieclub.com and using the header "SUBSCRIBE ME TO NEWSLETTER".
HOW CAN I CONTACT YOU IF I HAVE OTHER QUESTIONS/RECOMMENDATIONS:
You can always email us at community@secretmovieclub.com with any other questions, concerns, thoughts, recommendations.