About this Event
PRESENTED BY BAY AREA BORDER RELIEF
Learn what's happening on the ground in the Rio Grande Valley, the busiest border area in the U.S., directly from the award-winning, inspirational woman who has been referred to as the Mother Teresa of South Texas, patron saint of the border and the "favorite nun" of Pope Francis. She founded the Humanitarian Respite Center in 2014 and has since received numerous accolades, including the University of Notre Dame's 2018 Laetare Medal, the highest distinction given to an American Catholic. Her simple motto: "Helping another human being is never wrong." Sister Norma has drawn international acclaim for ministering to mostly Central Americans who have legally claimed asylum and are allowed to stay until their cases are decided. The center has served over 200,000 asylum seekers since its founding.
Donations in support of the Humanitarian Respite Center will be appreciated and collected at the event. All contributions will benefit the Humanitarian Respite Center of Catholic Charities Rio Grande Valley in McAllen, TX.
Thank you,
Bay Area Border Relief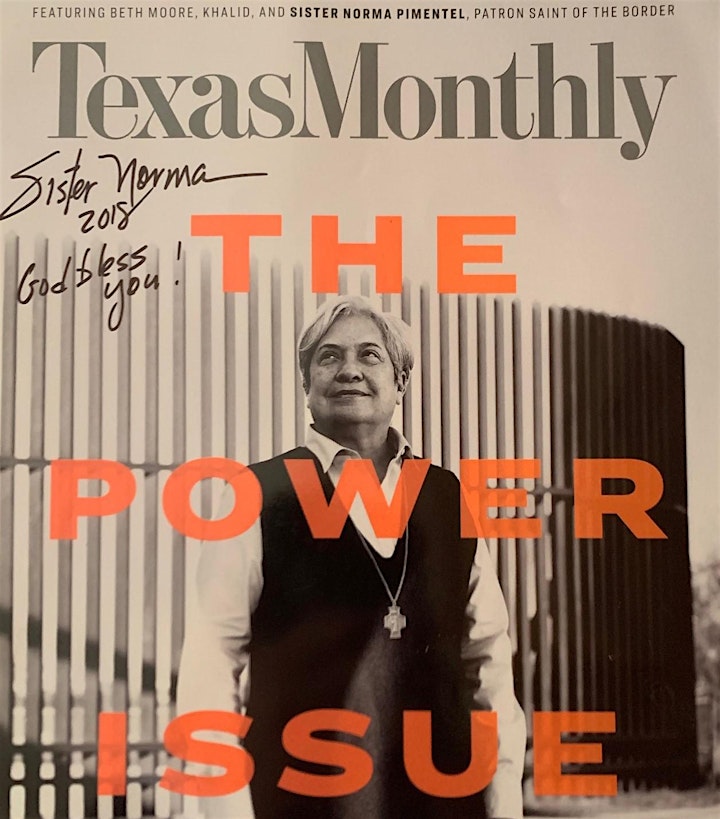 (ABOVE)Sister Norma Pimentel, The Power Issue, Texas Monthly magazine, December 2018
(BELOW) Bay Area Border Relief volunteer team at the Humanitarian Respite Center in December 2018 and July 2018.