Description
The Project 2049 Institute, the Organization for Asian Studies and the Taiwanese American Student Association is pleased to announce the launch of The Project 2049 Institute's new book by Research Fellow Ian Easton, "The Chinese Invasion Threat: Taiwan's Defense and American Strategy in Asia."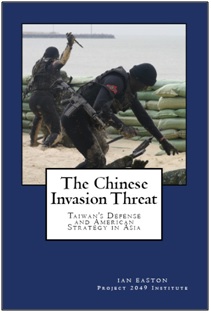 Are war clouds gathering in Asia? Will China make good on threats to invade Taiwan? What would this conflict mean for America and the world? Exposing internal Chinese military documents and restricted-access studies, The Chinese Invasion Threat explores the secret world of war planning, strategy, espionage, and national security. From a historic spy case that saved Taiwan from communist takeover to modern-day covert action programs, and from emergency alert procedures to underground coastal defense networks, this is the untold story of the most dangerous flash-point of our times. The book utilizes Chinese military documents to outline a potential Chinese invasion scenario, and analyzes the implications of such a threat for Taiwan, the United States, and the Asia-Pacific region.
This event will feature a moderated discussion with the author, followed by audience Q&A.
The Chinese Invasion Threat will be available for purchase for $20.00 (cash)
Speaker:
Ian Easton is a research fellow at the Project 2049 Institute, where he conducts research on defense and security issues in Asia. During the summer of 2013 he was a visiting fellow at the Japan Institute for International Affairs (JIIA) in Tokyo. Previously, Ian worked as a China analyst at the Center for Naval Analyses (CNA) for two years. Prior to that, he lived in Taipei from 2005 to 2010. During his time in Taiwan, he worked as a translator for Island Technologies Inc. and the Foundation for Asia-Pacific Peace Studies. While in Taiwan, he also conducted research with the Asia Bureau Chief of Defense News.

Ian holds an M.A. in China Studies from National Chengchi University in Taiwan and a B.A. in International Studies from the University of Illinois Urbana-Champaign. He also holds a certification in advanced Mandarin Chinese, having formally studied the language at Fudan University in Shanghai, and National Taiwan Normal University in Taipei. Ian's research has been featured in major media outlets in the United States and Asia, including the New York Times, Reuters, US News and World Report, Huffington Post, NHK, CCTV, the Diplomat, and the Taipei Times. He has testified before the U.S.-China Economic and Security Review Commission, and lectured at the U.S. Naval War College, Japan's National Defense Academy, and Taiwan's National Defense University. Ian is the author of "The Chinese Invasion Threat: Taiwan's Defense and American Strategy in Asia" (The Project 2049 Institute, October 2017)

Moderator:
Rachael Burton is the Deputy Director at the Project 2049 Institute where she directs program management and project development. She received her BA in International Affairs with a minor in Chinese at the George Washington University, where she studied nontraditional security in East and Southeast Asia. Prior to joining the Institute, Rachael spent two years as a Teach for China fellow, where she taught secondary school English at a remote rural village in China's Yunnan Province. She has worked briefly at the Carnegie-Tsinghua Center for Global Policy and the National Bureau of Asian Research, where she supported events and outreach development, and conducted research on energy security and U.S. engagement with ASEAN. She currently conducts research and analysis on the Chinese Communist Party's foreign policy, the People's Liberation Army (PLA), U.S.-Taiwan relations, and U.S. policy towards Burma (Myanmar). Rachael is a U.S. citizen born and raised in Bangkok, Thailand. She reads and speaks Chinese.